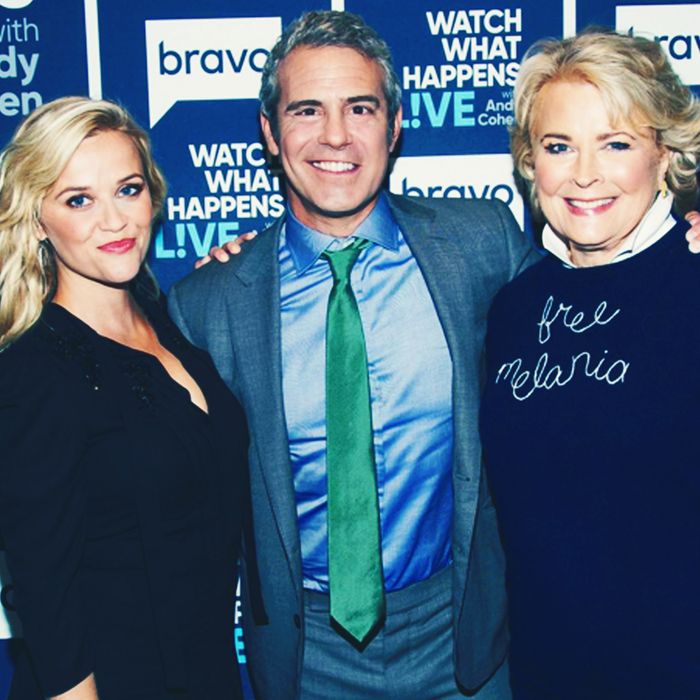 Reese Witherspoon, Andy Cohen, Candice Bergen.
Photo: Courtesy of Instagram/bravoandy
Candice Bergen was on Watch What Happens Live on Wednesday with her Home Again star Reese Witherspoon, when she was asked about that time she went on a blind date with Donald Trump in college. Clad in a "Free Melania" sweater, Bergen revealed that she thought the was a "douche" back then.
The legendary Murphy Brown star was playing the game Candidly (which is basically just the "truth" portion of truth or dare) with Witherspoon and host Andy Cohen when it all went down. At one point, the announcer stated, "During Candice's college years, she went on a date with a young, strapping Donald Trump." Bergen looked suspiciously at the camera – and Witherspoon confirmed that she knew that rumor was true.
Bergen was promptly pressed for details about the date (by one of the hot guys from Home Again) – and revealed that the future president picked her up while wearing a "three-piece burgundy suit and burgundy patent leathers loafers in a burgundy limousine."
Cohen asked whether there was chemistry during the date, to which Bergen replied that she was "home very early" and that "there was no physical contact whatsoever." He further inquired whether Bergen found Trump to be alluring or "douchey" at the time – and the actress replied, "He was a good looking guy… and a douche."
The Bravo host then astutely pointed out that Bergen was clearly wearing the "Free Melania" shirt with "some authority."