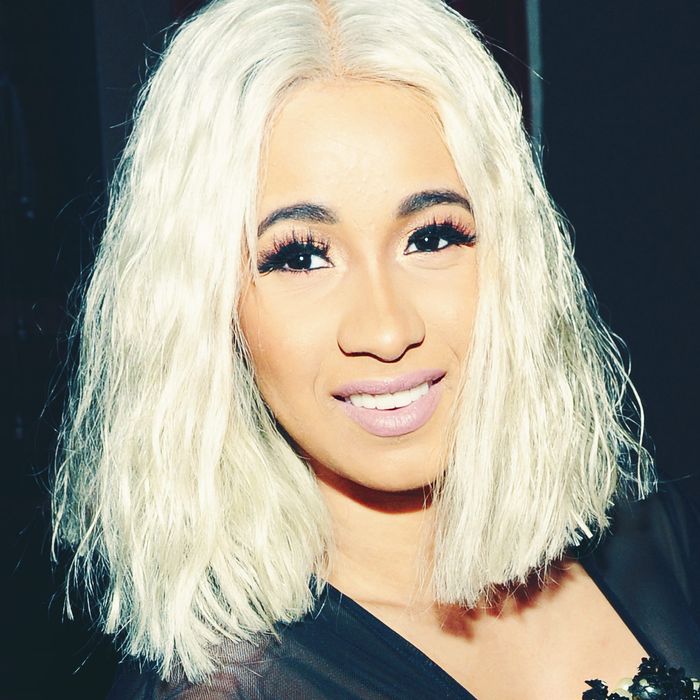 Cardi B.
Photo: Craig Barritt/Getty Images
On Monday, Cardi B beat Taylor Swift for the No. 1 song in America with her single "Bodak Yellow," making her the first female rapper to reach the top of the Billboard Hot 100 since Lauryn Hill in 1998. To celebrate, Cardi gave a contagiously joyful speech at Atlantic Records in New York — and sang a few bars from Swift's "Look What You Made Me Do" in the process.
Sipping on champagne, Cardi enthusiastically spoke of how hard she worked to get her single to the number-one spot. "Yeah bitch, I hit number one!" she said, before explaining how happy and honored she felt. The Monday platinum-plaque bash was apparently a surprise for Cardi — who didn't realize that her friends and family were there. "All my friends are here — no wonder y'all wasn't answering my phone calls," she joked.
The rapper continued, "You know that quote that they say, you know who your real friends is when you open a business. Well, I experienced that this week, because all my friends, everybody I grew up with, my family, my gang, everybody posted posters so I could go number one, without even me asking." She then thanked her friends for their support — and broke out into Swift's song. Singing your competitor's tune in victory seems like an extremely gratifying way to celebrate.