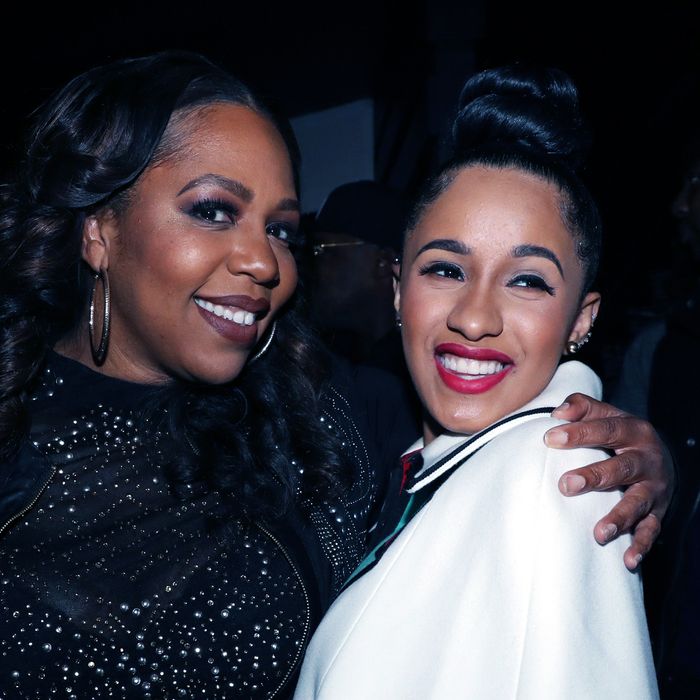 Dr. Catrise Austin (L) and Cardi B (R).
Photo: Johnny Nunez/WireImage
Too often, when a song hits no. 1 on the Billboard Hot 100, we forget to ask ourselves: "What impact will this success have on the artist's dentist?" Fortunately, we now have some insight into the matter. On Thursday, Cardi B's dentist, Dr. Catrise Austin, D.D.S., told TMZ that her business has exploded since she got a shout-out in her client's single "Bodak Yellow".
"Since the song 'Bodak Yellow,' that just went No. 1 this week, went out, things have been incredible," she told TMZ. "Just this week I've gotten so many calls because people actually wonder 'Who is Cardi B's dentist?' My business has literally tripled!"
"Cardi B has inspired so many people to improve their smiles," she added.
Cardi B got a set of porcelain veneers from Austin last year, and since referencing the procedure in her single's lyrics "Got a bag and fixed my teeth / Hope you hoes know it ain't cheap," fans have been seeking out Austin, eager to experience the same dental care as the rapper who unseated Taylor Swift at the top of the charts.
Austin reportedly treats a number of celebrity clients, including DJ Khaled, Common, Toni Braxton, Omarosa, and Busta Rhymes. And while her services don't come cheap, according to multiple Yelp reviews, you're able to watch TV during your treatment, so that's pretty cool.