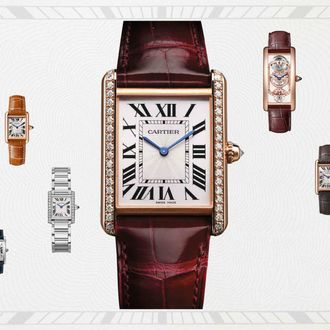 Cartier's Tank watch is a classic — so classic, in fact, that it's celebrating its 100th birthday this year. In honor of the milestone, Cartier has introduced a new, limited-edition model, updated with (of course) a ton of diamonds.
The original Tank design was created by Louis Cartier in 1917 as a way to distance his jewelry from the Art Nouveau style that was popular at the time. The story goes that he designed the watch on top of a literal tank, hence the name. It quickly gained popularity and stayed popular through the 20th century and beyond.
Yves Saint Laurent, Michelle Obama, and Diana, Princess of Wales all wore the timepiece regularly. Warhol famously said of the Tank watch, "I don't really wear it to tell the time." The two new limited editions feature fresh face designs and pink and white-gold, in addition to those diamonds.