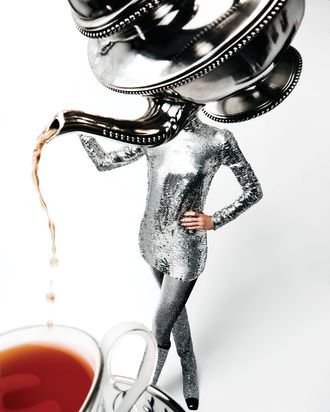 Introducing Finer Things, a photo series with a playful approach to elusive, glamorous fashion items we're fixated on right now.
Futuristic fashion is actually quite retro: The Space Race influenced 1960s design, from Paco Rabanne's futuristic, mod minidresses for Jane Fonda in Barbarella to André Courrèges's "moon girl" collection of 1964. Courrèges was so curious about intergalactic travel that he even paid a visit to NASA.
Cut to the current season, where Karl Lagerfeld's fall show for Chanel was set on a giant rocket, with models as moonwalkers donning silver, sparkling go-go boots and shimmering tights. Elsewhere, Tom Ford offered a tunic entirely covered in silver sequins worthy of Ziggy Stardust. If full metallic feels too flashy, try the tights and boots with a simple, black tunic dress and the Tom Ford paired with a slim, cropped pant.
Tom Ford Sequin Top, $7,990, at 754 Fifth Ave.; (212) 753-7300. Chanel glitter high boots, $1,575, and tights, price upon request at 15 E. 57th St.; (212) 355-5050.