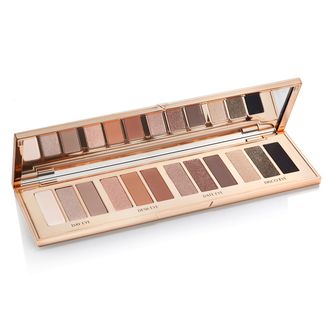 Photo: Courtesy of Charlotte Tilbury
There's an arms race in eye shadow palettes. Since Urban Decay started selling a Naked palette every second, the beauty industry continues to up the ante (Amazon even sells a palette with 252 colors). But the demand is there — even Sephora's most expensive palette ($239) from newcomer beauty founder Natasha Denona sold out in five minutes. Naturally, Kate Moss and Amal Clooney's favorite makeup artist, Charlotte Tilbury, had to enter into the fray, by creating the Instant Eye Palette, her first one ever.
The limited-edition palette contains 12 neutral shadows, grouped into trios for different looks such as the Day Eye, Desk Eye, Date Eye, and Disco Eye. (But take the pairings as suggestions — even the Day Eye look includes a shimmer shadow, so it may be more befitting a Day in Tilbury's favorite place to party, Ibiza.) Tilbury promises that the shadows are "idiot-proof," telling me at a recent press event that they're designed to be simply blended by making a "windshield wiper"-move with a brush. The palette goes on sale for one day only, starting tomorrow morning at 9:30 am ET, and following that, customers will have to be added to something Tilbury and her friends never have to endure — the wait list.