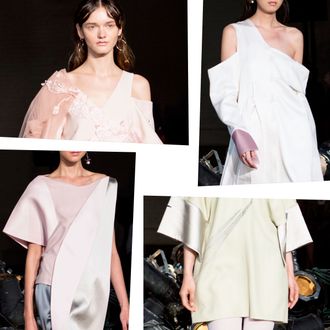 Lujin Zhang might have just graduated from Parsons School of Design last year, but she's already established herself as one to watch. Hailing from the city of Hohhot, which is technically located in Inner Mongolia, Zhang didn't grow up studying art. But after she started drawing in high school, she convinced her parents (who were initially very reluctant about her career choice) to let her go to art school in the United States.
In New York, Zhang discovered a world of distinctive, highly personal style. In contrast to her tiny city, where her friends were more likely to follow celebrity style, she found herself surrounded by people who weren't afraid to get weird. Drawing from that inspiration, her formal training, and her cultural background, Zhang created her namesake brand, a combination of her Eastern and Western sensibilities.
While her fall debut was a quieter affair, her sophomore efforts have really kicked things up a notch. Zhang's spring collection began when she made a kaleidoscope. She filled with it what she described as "bad" things — guns, body parts, hearts — but viewed through the prism, they seemed lovely.
To translate that vision into fashion, she cut and combined silk and satin pieces in soft colors like icy blue, pale pink, and mint green. She also found an artisan back home who used a drop-needle technique, commonly seen in traditional Chinese embroidery, to add bird-of-paradise details to tops and dresses. The painstaking work a subtle nods to her heritage without delving into costume territory. See how it all came together in the slideshow below.