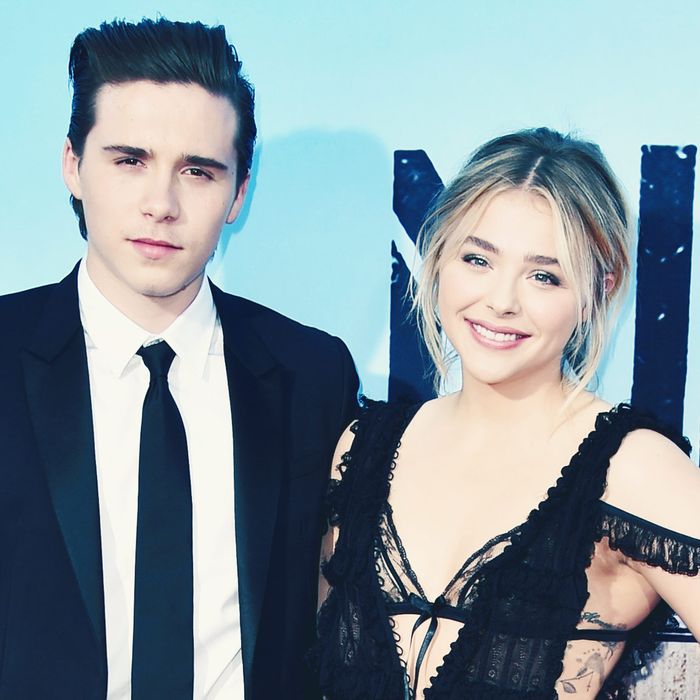 Photo: Alberto E. Rodriguez/Getty Images
Everyone's favorite Gen-Z couple may be back together again. For real this time. I'm serious. Oh my God, just read this report: According to People, Neighbors 2 actress Chloë Grace Moretz and noted photographer Brooklyn Beckham are "hanging out again." And Moretz sent Beckham a heart emoji!
The evidence is in the comment section of this Instagram, posted by Beckham on Thursday.
People scrolled through thousands of comments and found the most important one ever, ever, ever. It's from Moretz, and it says, ":heart emoji: @brooklynbeckham." Go check for yourself, if you don't believe it. Chloklyn is back.
Apparently, Moretz has been building up to this public display of emoji for a couple of weeks. According to the Sun, she was spotted with Beckham at a "wild party" in Los Angeles on August 19, and she "was chatting with other guests about how they had got back together."
Moretz and Beckham reportedly broke up a year ago, after a long, loving relationship punctuated by hundreds of SoulCycle classes. In the interim, Beckham has pursued his passion for photography, and now, he is studying at Parsons in New York City. He told People earlier this month, "Everywhere in New York is cool to see and cool to photograph."
I personally can't wait to see photos of Beckham and Moretz hanging out at Cha Cha Matcha in the coming weeks.