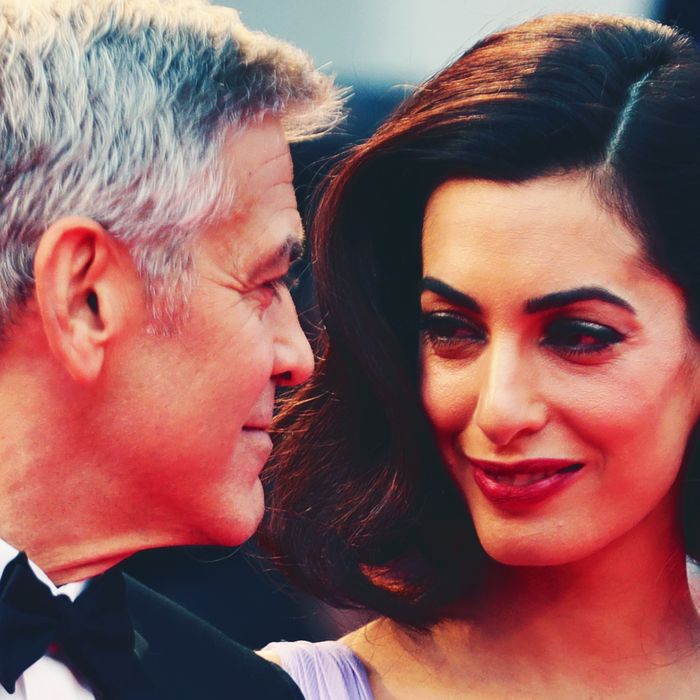 New parents George and Amal Clooney.
Photo: Vittorio Zunino Celotto/Getty Images
The world still hasn't gotten a good look at George and Amal Clooney's three-month-old twins, Alexander and Ella. (The couple has been fiercely protective of the babies so far, and George threatened to sue any paparazzi who stole a shot of the twins after grainy photos appeared in the French magazine Voici.)
But this weekend, the pair briefly satiated paparazzi as they stepped out, in their first public appearance since having the twins, for the premiere of George's new film, Suburbicon, at the Venice Film Festival.
George even teased their personalities in an interview with Entertainment Tonight.
"[Alexander] is a thug already. You saw him," George said to Matt Damon during a joint interview. "He's a moose! Literally, he just sits and he eats."
Describing his daughter, Ella, Clooney said. "She's very elegant, and all eyes. She looks like Amal, thank God."
In the meantime, Amal held off the hounds demanding baby photos by celebrating the Venice Film Festival in three stunning gowns from Italian designers — each situationally appropriate for various Venetian activities. Check out the photos below.
Traveling by Canal:
A strapless polka-dot dress, by Ermanno Scervino.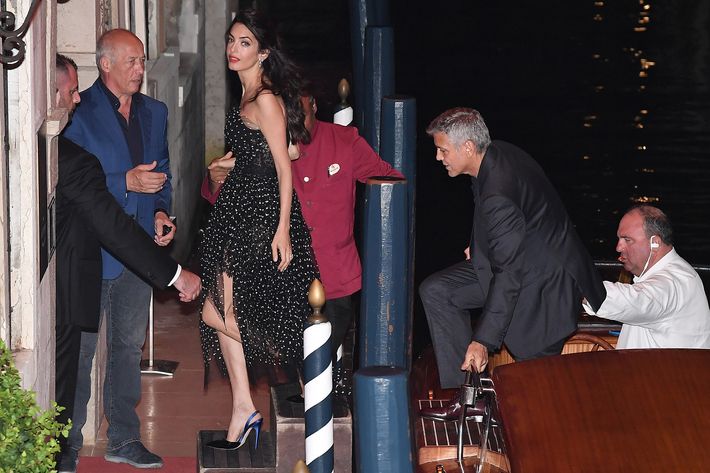 Date Night With a Silver Fox:
Sparkling blue dress, by Missoni.
Cameo on a Venetian Red Carpet:
Lilac gown, by Versace.