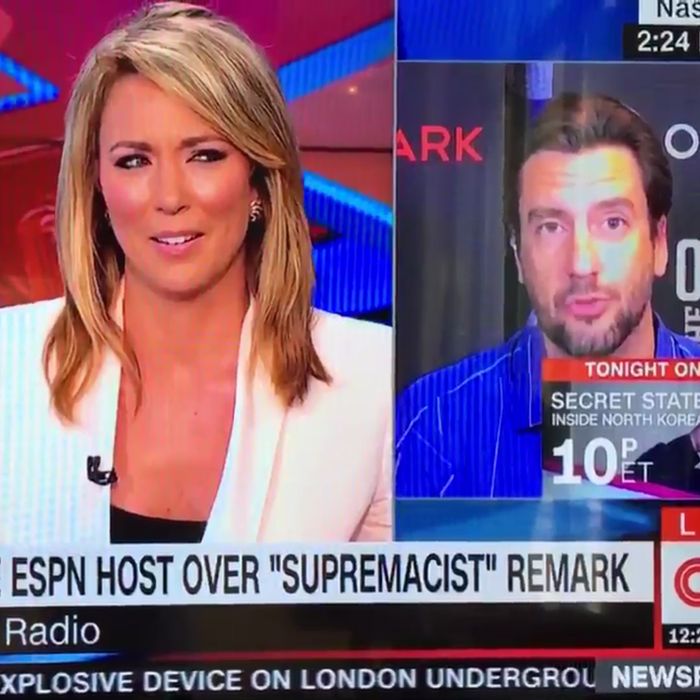 Keith Reed, Brook Baldwin, and Clay Travis.
On Friday, CNN's Brooke Baldwin hosted a segment about Jemele Hill, the ESPN anchor whom the White House said should be fired because she called the President a white supremacist on Twitter. The discussion quickly went off the rails, however, when guest Clay Travis decided to use it as an opportunity to talk about how he's a boob guy.
Travis, a Fox Sports analyst, kicked off his argument by saying, "I believe in only two things completely: the first amendment and boobs."
Baldwin interrupted, asking, "Wait, did you just say that you believe in the First Amendment and … I just want to made sure I heard you correctly as a woman anchoring the show. What did you just say? You believe in the First Amendment and b-double-o-b-s?"
"Boobs," Travis, who is 38 years old, clarified. "Two things that have never let me down in this country's history: the First Amendment and boobs."
He then finished his thought, but by the time Keith Reed — a former ESPN the Magazine senior editor and friend of Hill's — started in on his point, Baldwin yanked the mics. (Reed later posted a message about it to Instagram.)
Baldwin took to Twitter to clarify that what Travis did is never a good idea.
While Travis, it seems, is still wondering, "ey, what's the big deal?"