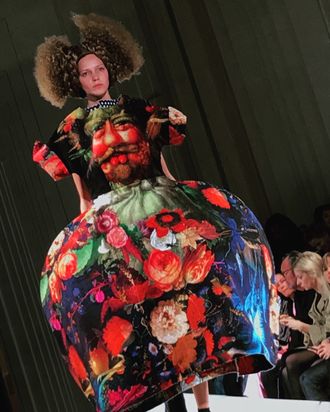 Comme des Garçons Spring 2018.
Photo: Courtesy of The Cut Editors
Rei Kawakubo of Comme des Garçons is known for her avant-garde silhouettes that warp the female figure in stunning and unexpected ways. This season was no different. For her Spring 2018 collection, which showed at Paris Fashion Week on Saturday inside the Russian Embassy, the designer revealed bulbous gowns, and coats with shoulders that spread out like angel's wings — even the models' hair took its own radical shape.
Kawakubo showed an eye-popping mash-up of prints, in addition to exaggerated proportions this season. On one dress, portraits by the 16th-century Italian painter Giuseppe Arcimboldo — of human faces made of fruits and vegetables — were playfully combined with a collage of children's toys. Sailor Moon–like girls with big blue eyes stared back at you along with Snoopy-ish cartoon characters . Other abstract, gridlike prints resembled paintings by the artist Chuck Close who creates mosaic-inspired portraits using amoebas of color. Conversely, Kawakubo's all-white looks were imbued with just as much texture and intricacy, which is no easy feat.
We've been seeing a lot of elaborate prints this season, but this collection reminded us specifically of Prada's Spring 2018 looks, which were both inspired by and covered with comics by female artists. Per usual, Kawakubo took this idea one step further than everyone else. See the most elaborate prints below.