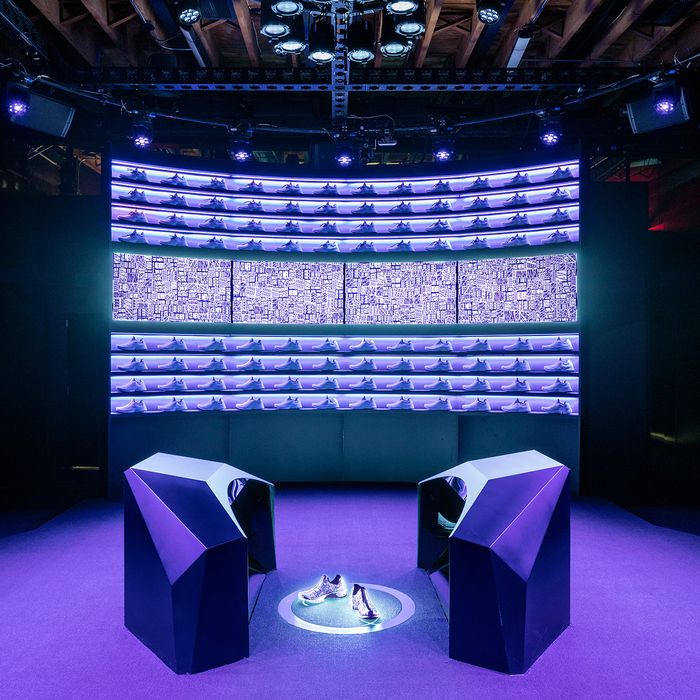 Photo: Dorothy Hong/Courtesy of Nike
The one thing every sneakerhead wants is a shoe that no one else has. Now, Nike is letting fans design their own shoes in a process so sci-fi, it looks like something out of Minority Report.
The Cut's senior fashion market editor, Diana Tsui, recently went to Nike By You — aka Nike's Soho studio, aka 45 Grand, aka the brand's "secret gym" — to test out the technology. It's known as the Nike Maker Experience, and it was dreamed up by Mark Smith, Nike's vice-president of innovation and special projects, along with his team.
Once you enter the darkened space, you're given a pair of white Prestos with little sensors dotted across the heel. In the customization room, a guide shows you how to use proprietary technology, which lets you see your sneakers projected on mirrors all around you. It's voice-activated, so your job is to tell the machine what you want your shoes to look like. You can choose between four patterns, zoom in, zoom out, add words, switch colors — the sky's the limit. (See how it all works in the video below.)
The last decision is probably the hardest: Do you choose the classic Presto, or the new Presto X (a slip-on style exclusive to this experience)? Once you make the call, a countdown clock appears. Which is the other thing that makes the Nike Maker Experience special — your shoes are finished in under an hour. (Nike currently offers two other customization options, but they both take weeks.)
Of course, there's a catch: The whole thing is invite only, though the upside is that your shoes are free. How do you get yourself a spot? Download their Nike+ app and begin using it. The more you engage, the better chance you have of being given the Golden Ticket. Spots are limited and appointments start on September 16, so may the odds be ever in your favor.