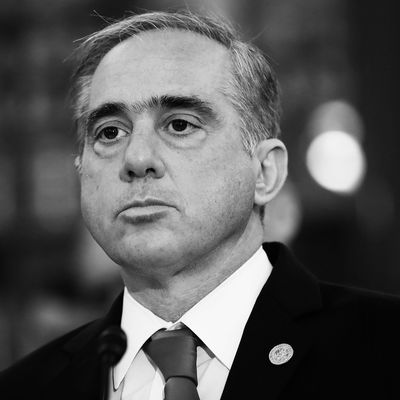 David Shulkin.
Photo: Win McNamee/Getty Images
A trip to Europe that includes a Wimbledon championship game, a river cruise down the Thames, shopping, and touring historic sights may sound like the ideal vacation to many of us. But Veterans Affairs secretary David Shulkin and his wife reportedly got to do all that on a recent trip that was funded by taxpayer dollars.
As the Washington Post reports, Shulkin and his wife, Merle Bari, recently spent ten days in Europe. It wasn't entirely a vacation, though — Shulkin was technically there for meetings with British and Danish officials about veterans' health. But the pair spent most of their time enjoying tourist activities, according to an itinerary obtained by the Post (and confirmed by a U.S. official).
The couple were joined on their working vacation by the undersecretary of health and her husband, Shulkin's chief-of-staff, another aid, and a six-person security detail. The VA told the Post that it covered Bari's airfare and gave her a per diem for meals because she was traveling on "approved invitational orders."
Unlike other (now-former) Trump officials, Shulkin flew commercial (and at one point, gasp, in coach) during his travels — though his trip does still raise questions about the ethics of mixing business with pleasure on taxpayer's money. The trip also came two weeks after Shulkin signed a memo asking VA officials to determine whether "employee travel in their organization is essential" in an attempt to "generate savings" within the agency, the Post reports.
VA press secretary Curt Cashour told the Post via email that all of his European activities (yes, even Wimbledon) "were reviewed and approved by ethics counsel." He added that the activities were "important trips with our allies to discuss best practices for taking care of veterans." Hey, at least he wasn't doing all this just to see an eclipse …