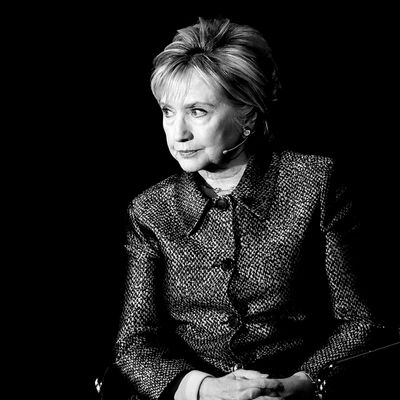 Hillary Clinton's book is pissing people off.
Photo: Drew Angerer/Getty Images
Hillary Clinton is getting ready to tour the country to talk about her new memoir, What Happened, a firsthand account of her thoughts and feelings during and after the 2016 presidential campaign. Although the book comes out from Simon & Schuster next week, a few excerpts have been leaked online, and some of Clinton's fellow Democrats are not happy.
"The best thing she could do is disappear," one of her former surrogates reportedly told the Hill. "She's doing harm to all of us because of her own selfishness."
A former Obama aide reportedly echoed the surrogate's concerns. "None of this is good for the party," the aide said. "A lot of us are scratching our heads and wondering what she's trying to do. It's certainly not helpful."
They're referring to her attacks on Senator Bernie Sanders, who she says did "lasting damage" to her campaign, and "pave[d] the way" for Donald Trump to attack her credibility. She also chides Joe Biden for his criticism of her message: "Joe Biden said the Democratic Party in 2016 'did not talk about what it always stood for — and that was how to maintain a burgeoning middle class,'" she wrote. "I find this fairly remarkable, considering that Joe himself campaigned for me all over the Midwest and talked plenty about the middle class."
Democrats are afraid Clinton's recollections will further divide their party — and at a crucial moment. "We are fighting some of the most high-stakes policy and institutional battles we may ever see," Representative Jared Huffman, a California Democrat, who supported Clinton during the election, told Politico. "We're trying to bring the party together so we can all move forward. She's got every right to tell her story … But it is difficult for some of us to play out these media cycles about the blame game and the excuses."
"There is a collective groan whenever there's another news cycle about this," he added.
Others were more sympathetic — "This was a heartfelt loss for her, and I'm sure this book was cathartic," Democratic strategist Steve McMahon offered. But some wish she'd channel her talents … differently. "She's brilliant and has a lot to offer," Texas Democratic Chairman Gilberto Hinojosa told the Hill. "I think what people want from her, and what the party needs, is the guidance she can provide in how we proceed."