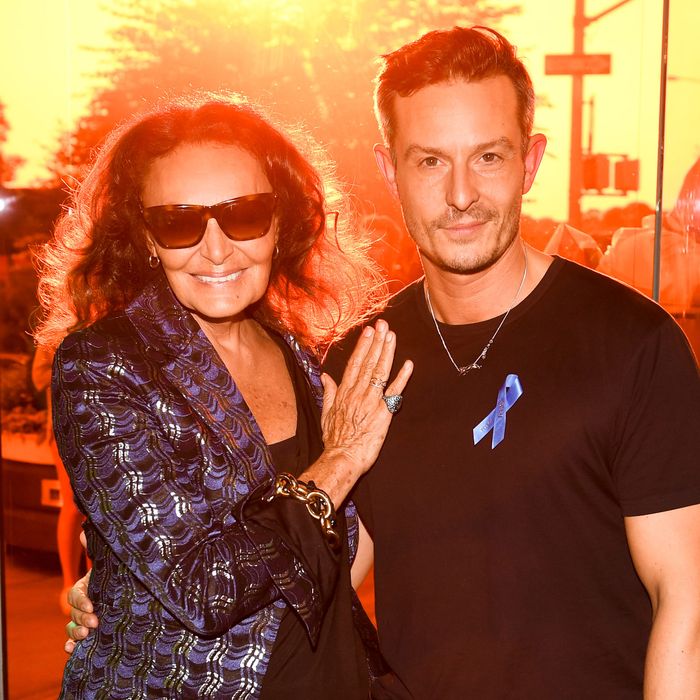 Diane von Furstenberg and Jonathan Saunders at DVF's SS18 presentation.
Photo: Billy Farrell/BFA.com
There's an argument to be made that life is better if you always imagine, wherever you are, whatever you're doing, whether pumping gas, grocery shopping, or getting your annual pap smear — that you are actually a princess yachting through the Mediterranean.
At least, this approach has always seemed to work for designer Diane von Furstenberg. (And, of course, it's a lot easier to do if your ex-husband was a German prince, and your current husband is billionaire Barry Diller.)
So instead of preparing for Fashion Week by guzzling cold-brew coffee and barking at assistants, von Furstenberg told the Cut she likes to take out the family boat.
"I try to go by the water," she said. "I had a little drive around Manhattan with a little speedboat. The water makes everything better. You feel like you have just been on vacation."
Von Furstenberg has recently taken a step back from her namesake brand to focus on her philanthropy efforts, leaving day-to-day creative responsibilities to Jonathan Saunders.
By the time the Cut caught up with Saunders after yesterday's Meatpacking District presentation, the designer, who was still sporting a wrist-full of safety pins, had prepped 40 models, checked the lights, touched base with the PR team, and overseen the final rehearsal.
But did he manage to find time to join Diane on the boat?
"I didn't do that," he said laughing. "To be honest, my attention needed to be here."