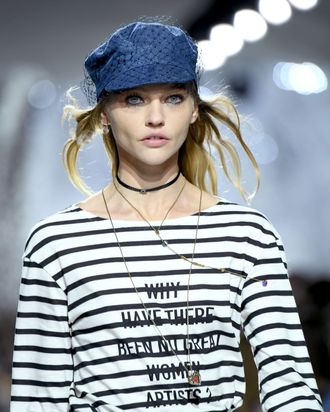 Christian Dior spring/summer 2018.
Photo: Dominique Charriau/WireImage
Last season, Dior's shirt featuring Chimamanda Ngozi Adichie's "We Should All Be Feminists" mantra took the fashion world by storm. The $710 shirt was worn by Rihanna (whose charity received a percentage of sales profits), A$AP Rocky, and Natalie Portman.
Today at Paris Fashion Week, designer Maria Grazia Chiuri unveiled a new graphic shirt on Dior's spring 2018 runway at the Musée Rodin. The show opened with a striped graphic tee reading, "WHY HAVE THERE BEEN NO GREAT WOMEN ARTISTS?" followed by disco-ball dresses and moto-mod leather jumpsuits.
The Guerrilla Girls–style quote nods to a 1971 essay with a similar title by art historian Linda Nochlin. Notes placed on each guest's seat at the show credited Nochlin as an inspiration to Chiuri. "It is necessary to give these different and specific artists their due," Chiuri wrote, "for it's they who break the mold of the traditionally male discourse in art history, and in fashion." Hopefully the new shirt will also send a percentage of the proceeds to a charity — we've reached out to Dior and will update this post as soon as we hear back.
In the show notes, Chiuri said she also looked to sculptor Niki de Saint Phalle's Tarot Garden in Tuscany and mod looks from the Dior archive, by the label's former designer Marc Bohan. Another self-aware nod at her show: A charter recently signed by Kering and LVMH (which owns Dior) was reportedly posted in the dressing area in English and French — a reminder of Dior's commitment to models' health.