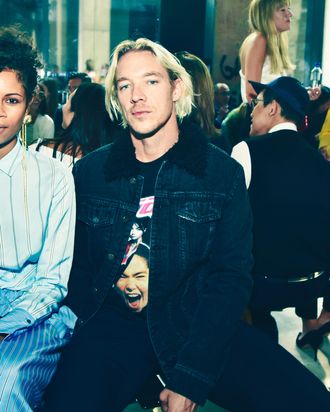 Diplo at New York Fashion Week.
Photo: Eugene Gologursky/WireImage
"Where am I?" Diplo asked at the Helmut Lang show on Monday night. Seeing that this was the latest revival of the quintessential '90s brand, I thought perhaps this was an expression of postmodern irony. But no, Diplo was genuinely confused.
"What show do you think this?" he asked, trying to deflect the question.
"We're at Helmut Lang," I said.
"Someone told me it was Hood by Air a minute ago," Diplo replied.
I explained gently that Shayne Oliver, the founder and designer of Hood by Air, was now the "designer in residence" at Helmut Lang — the show … we were currently … at … It was an easy mistake, really. This particular fashion show format had never been done before, and was slightly confusing, even for someone who works in fashion.
In addition to Oliver, Dazed editor-in-chief Isabella Burley was also recruited to be the brand's "editor in residence," and it is now up to her to bring in exciting, provocative capsule collection designers to revamp the brand each season. (As well as A-list front-row guests like Diplo.) Burley also decided to reissue archival Helmut Lang pieces and wipe the brand's social-media accounts clean this September. It's new! It's cool! It's avant-garde! Go with it, Diplo.
Once we cleared that up, Diplo reassured me that he loved Helmut Lang. In fact, he was wearing the brand from head-to-toe.
"He's my homie," he said.
No! No, Diplo! Helmut Lang is not your homie, because Helmut Lang left the brand in 2005. We were so close. Oh well, let's talk about your Helmut Lang jeans, Diplo.
"They're high-waisted," Diplo said, putting his hands on his hips. "I've got a really weird waist, so high-waisted is better for me. I like the highest high. I also have thick thighs."
No! No, Diplo! You don't have a weird waist, or thick thighs! You're perfect, just the way you are.
"I put them on like ten minutes ago," Diplo went on. "I wasn't wearing pants all day. And then they told me I was coming to the fashion show, so I put on pants."
Diplo, we're so glad that you did.