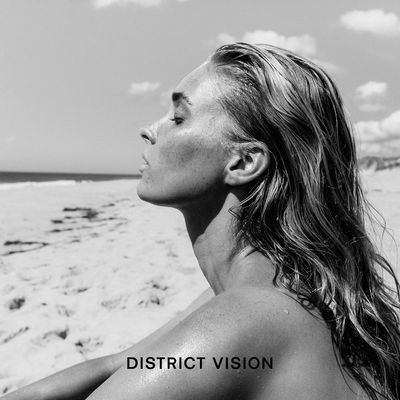 Elsa Hosk for District Vision.
Photo: Chadwick Tyler for District Vision
District Vision's sport eyeglasses have chic tinted lenses, but don't try to tell the founders — Saint Laurent and Acne alums though they may be — that there's anything on trend about them.
"They're actually tinted based on the kind of light you're running in," explained Tom Daly. "As soon as it gets shown by a brand in a different area, it takes on a different light." That's the essence of the brand: functional fitness gear that can't help being a little fashion-y, too.
Daly and co-founder Max Vallot rolled out their signature eyewear in 2015, but a year and a half later are expanding into what they call a "tool kit" for runners who meditate (or vice versa).
It includes a yoga mat sustainably made from rubber-tree materials, a handmade yoga block, and a Mexican meditation blanket, ideally paired with their signature eyewear. The full kit was inspired by the 18 months they spent informally gathering 50 or so runners for meditation before races.
"That's how these things sit together, in the context of a tool kit," Daly said. "If you do this method, you need these tools. The idea of mindful athlete was always present, like Michael Jordan meditating in the '90s, but what we see now is an ability to take that into performance and make access points for everyone, whether you're running once a week, once a month."
It's an eclectic collection, which is the point. "From a merchandising standpoint it's bad in a way, because things don't really sit together," Daly said. "But it's really built for this person that's interacted with us for the last year and a half and that's honestly a challenge."
Continuing the theme of making wellness and the idea of the "athlete" accessible to all, they are also launching their Ashwagandha Crew campaign. The name is a small joke on the proliferation of wellness and how quickly the definition of what it means to be healthy has shifted.
"Ashwagandha is an Ayurvedic herb, and it's supposed to calm the nervous system. But it's almost become a buzzword for a new generation of health freaks. You have people putting it it in their coffee and they don't know what it does," Vallot said. "Ashwagandha Crew is a way of opening up the conversation. You can be a runner in the mountains of Colorado or you can be doing it in the city on your own."
The new imagery for the campaign features Victoria's Secret model Elsa Hosk, running and doing yoga on the beach, clad only in the eyewear.
"You have an idea of what an athlete means and you have an idea of a runner. We're looking to show that everyone's an athlete in their own way," Daly said.
The tool kit will be available on their site. Click ahead to see the images for the campaign, shot by Chadwick Tyler, but just a note: They're not safe for work.