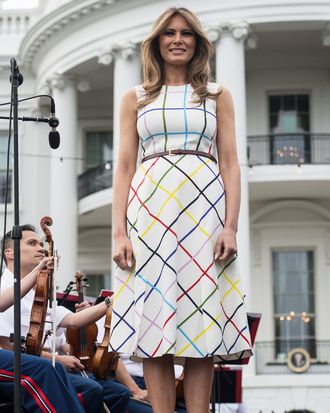 Melania Trump.
Photo: Getty Images
Over the Labor Day weekend, while American citizens were putting away their whites (and celebrities were making out with each other), our president, Donald Trump, was tweeting.
"We are building our future with American hands, American labor, American iron, aluminum and steel," he wrote in post to celebrate the holiday. Apparently, though, he isn't concerned with American fashion —despite the fact that New York Fashion Week kicks off on Thursday —because in the photo he tweeted out, Melania Trump wears an Italian-made dress.
As his Twitter followers so diligently pointed out, the white checkered dress that Melania wore back in June to the White House Congressional Picnic was not only manufactured abroad, but also designed by Mary Katrantzou, a Greek fashion designer who currently lives and works in London. Oops.
Ms. Trump knows exactly what she's doing though when it comes to her outfit choices, whether they're appropriate or not. It's her husband who seems to be the only one not paying attention.