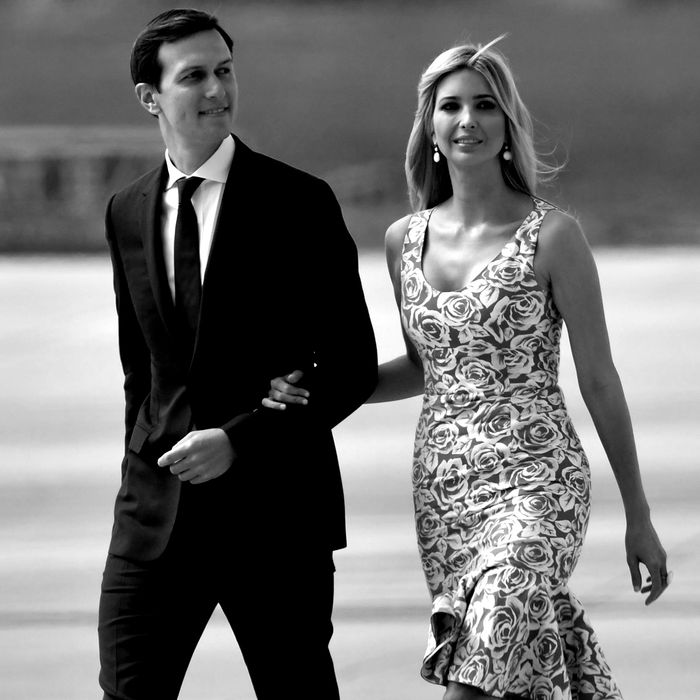 It looks like some Dreamers have decided to appeal to Javanka.
Photo: Getty Images
On Sunday, news broke that President Trump is toying with ending the Deferred Action for Childhood Arrivals (DACA) program, which allows undocumented immigrants who were brought to the country as children to live and work in the U.S. White House sources told the New York Times that Congress would be given six months to come up with a replacement for the program, but that it's unclear whether Dreamers — or DACA recipients — would be able to renew their protected status during those six months.
Some of Trump's aides have reportedly been pushing him to extend Dreamers' protected status — among them Jared Kushner and Ivanka Trump. And on Monday night, a handful of Dreamers held a vigil outside Javanka's Washington home asking them to save DACA.
According to one Twitter user, the protesters came from seven different states to appeal to the First Daughter and her husband. Ending the program would potentially rescind the legal status of 800,000 Dreamers, and could make them vulnerable to deportation, the Times reports.
Unfortunately, it's unlikely Ivanka and Jared can do anything about it — the president has steamrolled over their protests in the past on issues like withdrawing from the Paris climate accord and banning transgender troops from serving in the U.S. military, and the First Daughter recently said she "desperately wants to lower expectations of what she can achieve" within her dad's administration.
She also "told allies that she wants to be held accountable solely on those issues she is actively working on," and as of now, immigration isn't one of them. Wonder if she's still feeling the same way about this story?