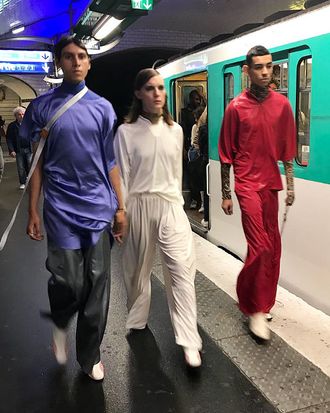 Dumitrascu.
Photo: Courtesy of Instagram/lofficielitalia
The small, Berlin-based brand Dumitrascu just gave new meaning to the word "underground" with its spring 2018 Paris Fashion Week runway show, which took place on Friday night on the platform of a crowded métro station.
According to videos posted on Instagram, dramatic music echoed through the station as models walked guerrilla-style. Some carried suitcases, dragging them along the platform edge, and their body language suggested they were just like any other stylish passenger. They walked quickly, as though they were late.
When trains arrived and actual passengers spilled out, the models kept walking, swerving in and out of the crowds. Naturally, eyebrows were raised. Some stopped to stare, while others kept on their way. Métro benches were transformed into front row seats.
During New York Fashion Week, Alexander Wang tried to stage a similar guerrilla show on the streets of Manhattan and Brooklyn. But rather than taking the subway, his models arrived by party bus.
The MTA could never handle this.