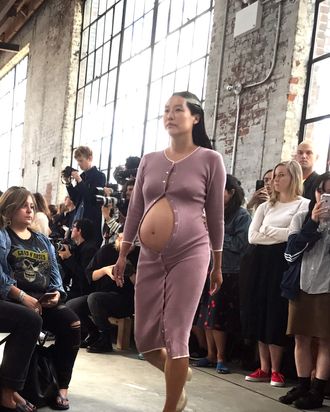 Even more rare than seeing a mother on the runway these days, (as opposed to a teenager), is seeing an expecting mother on the runway. But all of the above made an appearance at the Eckhaus Latta spring 2018 show, which took place Saturday afternoon at 99 Scott in Bushwick, Brooklyn.
In addition to the many audience-members who brought their children along for the show, the daughter of fashion designer and artist Susan Cianciolo watched as her mother walked the runway, as well as the son of fashion model and editor Hannelore Knuts. Kim Gordon took proud iPhone photos as her daughter, Coco Gordon Moore, made her runway debut.
"It's nice to see your kids out in the world doing things on their own," Gordon said following the show. "I know she was nervous." As for the clothes, Gordon thought they were a successful "fluid gender cross-pollination" that "didn't feel self-conscious."
Overall, the show was a lovely family affair, but one of the most talked-about looks was a sweater dress worn by the artist and director Maia Ruth Lee, who undid several buttons at her waist to let her very-pregnant belly show through. Her husband, Peter Sutherland jokingly referred to the look on Instagram as being: "Preghaus Latta f/w trimester 17."
Each season, designers Mike Eckhaus and Zoe Latta bring together a cast of diverse models who range in age, size, gender, and usually creative occupations. (Other spring 2018 models included the musical artist Kelela, gallery director Lucy Chadwick, who is also a mother, and I Love Dick actress India Salvor Menuez.) Eckhaus and Latta also have a knack for including artful cutouts where you'd least expect them, as well as finding beauty in all parts of the body, from a bum-crack to an armpit. This was the first pregnant belly, however.
At this rate, with a packed house and clothes that get better and better each season, one can expect that Eckhaus Latta will be around for generations to come — maybe even for Lee's baby to wear. I for one can't wait to grow up with Eckhaus Latta.