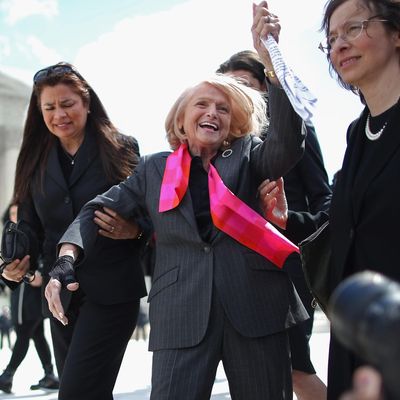 Edith Windsor celebrates the Supreme Court's 2013 decision.
Photo: Chip Somodevilla/Getty Images
Edith Windsor, whose Supreme-Court case struck down the Defense of Marriage Act and paved the way for the legalization of same-sex marriage throughout the U.S., died in Manhattan on Tuesday, the New York Times reports. She was 88.
Windsor filed a lawsuit against the federal government in 2010 after her partner, Dr. Thea Spyer, died, and Windsor inherited her estate. Heterosexual couples are exempt from paying taxes on their spouses' estates, and Windsor sought the same exemption — but was denied it under the Defense of Marriage Act. In her lawsuit, Windsor claimed that the law singled out same-sex couples for "differential treatment," which violated the constitution.
In 2013 the court ruled in her favor, striking down DOMA's definition of marriage as "between one man and one woman." The so-called Windsor decision took effect in 13 states and D.C., but since the court didn't declare a constitutional right to same-sex marriage, it remained illegal in 37 states with specific laws against it. (Those laws would be overturned by another Supreme Court decision two years later.)
Still, Windsor was elated. Immediately after the decision was announced, she headed to Stonewall Inn, where riots jump-started the gay-rights movement. Addressing a crowd of supporters there, she said, "Now's the part when I try not to cry."
Windsor worked as a computer programmer at IBM, rising through the ranks to become a senior systems programmer. She met Spyer in 1963, and the two dated for several years before Spyer proposed with a brooch (a ring would've prompted awkward questions). Then in 1977, Spyer was diagnosed with multiple sclerosis. As her condition grew steadily worse, she and Windsor decided to travel to Canada to get married, which they did in 2007.
"Married is a magic word," Windsor said at a rally at City Hall in New York in 2009, shortly before Spyer died. "And it is magic throughout the world. It has to do with our dignity as human beings, to be who we are openly."
Windsor is survived by her second wife, Judith Kasen-Windsor, who she married in 2016.