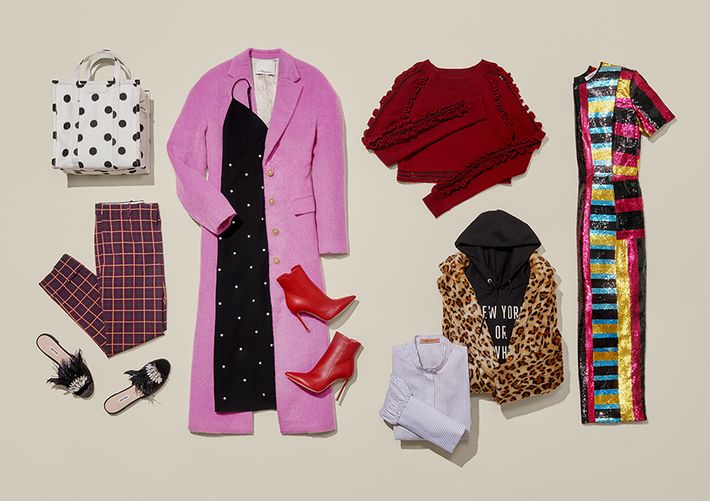 The trick to tackling shopping for a new season is to go in with a plan. Meandering from store to store without a solid idea of what you're looking for will likely lead to a smattering of impulse purchases – and exhaustion. Making a wish list is a good idea, as is zeroing in on just a few strategic destinations. That's not to say the process has to be all practical. To see it in action, we asked five Cut editors to choose their top five fall pieces from Saks Fifth Avenue's revamped fifth floor ("The Collective" was renovated this past spring). The results include ample ruffles, colorful fur, and very voluminous sleeves. Read on for the considered reasoning behind each.
Lindsay Peoples, fashion market editor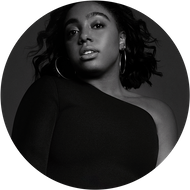 1. I'll admit it — I'm a sucker for off-the-shoulder tops. An added corset would add interesting detail and look cute with all my high-waisted jeans when it's a bit chilly out, but not time to bring out the jacket just yet. 2. Polka dots have been everywhere lately, and I've been searching for ways to add them into my wardrobe in a modern, non-retro way. The absurdly large version of this smaller tote would make a statement even with jeans and a t-shirt. 3. There is nothing I enjoy in life more than dressing like Missy Elliott, and this jacket gives me old school hip-hop vibes. 4. This tailored blazer is really sophisticated; you can wear it with jeans and sneakers just as easily as with a blouse and heels for work. 5. The frills and ruffle texture make this sweater stand out in the sea of plain cashmere ones I own.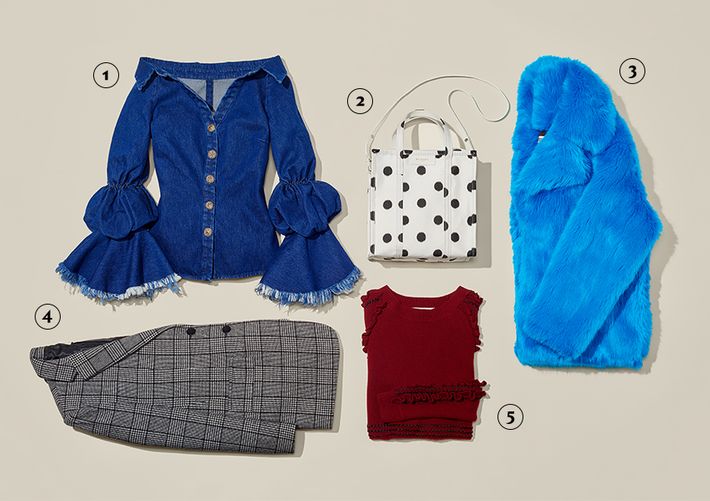 1. Caroline Constas Rigid Cotton Off Shoulder Denim Jacket, $585; 2. Balenciaga XL Bazar Polka Dot Shopper, $2,250 3. Diane von Furstenberg Long-Sleeve Collared Jacket, $598; 4. Tibi Aldridge Tweed Blazer, $795; 5. Jonathan Simkhai Crochet Ruffle Cropped Sweater, $495
Rebecca Ramsey, fashion director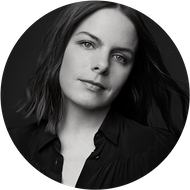 1. Each fall I gravitate towards '70s menswear – blazers in odd colors or checks, worn over a turtleneck in a complementing shade and then a Chelsea boot. My collegiate prep look never fails when I am deciding what to wear in the morning. 2. I love using red to accent an outfit, and Gianvito Rossi's shoes are undeniably the most comfortable – even with
the heel I know I can run around on appointments in them. 3. Since I wear so much black, I like to explore textures within the hue; I love the slickness of these part-rocker, part-goth trousers. 5. If Margo Tenenbaum got a job she would wear tailored leopard. I love this coat. My friends would all get sick of it because I'd wear it so frequently. With denim, or black worn head-to-toe, or over a white shirt, it's a neutral piece that also feels special.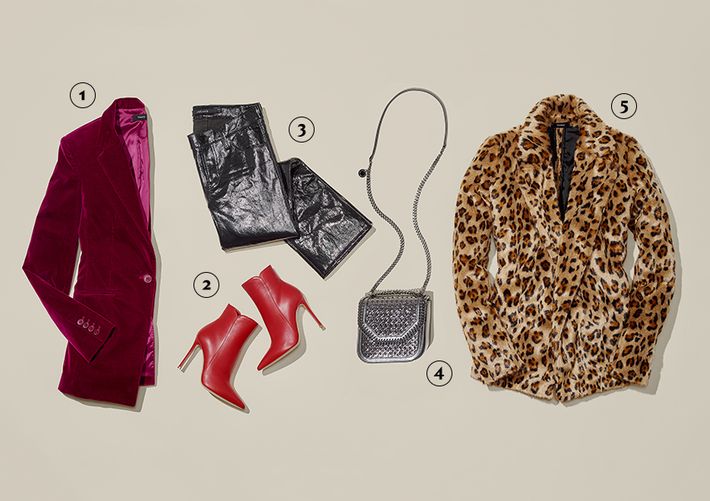 1. Theory Power Buttoned Jacket, $495; 2. Gianvito Rossi Point Toe Leather Booties, $1,075; 3. J Brand Selena Mid-Rise Crop Boot in Black Patent Leather, $230; 4. Stella McCartney Falabella Box Mini Wicker Metallic Faux Leather Crossbody Bag, $1,025; 5. Theory Clairene Leopard Print Faux Fur Blazer, $695
Diana Tsui, senior market editor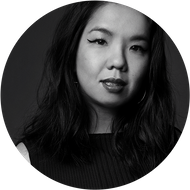 2. I can see myself recycling this tack-embellished slip dress for Fashion Week – when it's hot in New York – and then to work in the fall with a white button-down or black turtleneck underneath. 3. I've been a fan of Clu for years – I love how designer Jin Lee mixes textures like the crazy pleating on this sweatshirt. It's comfy but with a cool twist that would look great with jeans and sneakers on the weekend. 4. Since I'm 5'2" I used to force myself into painful high heels when I felt like I needed to look my best. These slides are a nice way to ensure my feet aren't screaming in pain by the end of the night. 5. If there's a weird ruffle stuck on randomly, I'm sold. This blazer looks as if it could be in the closet of an artsy, avant garde woman who only shops obscure Japanese brands, which is my aesthetic.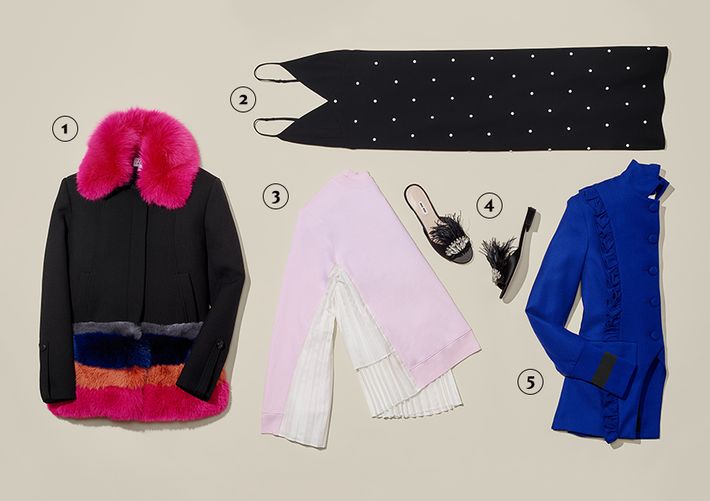 1. Tanya Taylor Poppy Colorblock Fur & Wool Coat, $2,995; 2. Tibi Neve Beaded Camisole Dress, $650; 3. Clu Pleated Panel Back Tery Sweat Cotton Top, $365; 4. Miu Miu Embellished Slide Sandals, $795; 5. Maggie Marilyn Know Your Power Blazer, $995
Catie L'Heureux, associate managing editor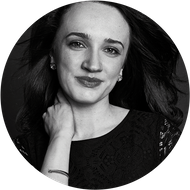 1. Years ago, my mom once said to pick what I like – silver or gold – and run with it. I chose silver: rings, earrings, necklaces. She'll be proud that this bag matches all the accessories I own. 2. This style always makes me think of Audrey Tatou in Coco avant Chanel. 3. This gorgeous dress reminds me of a Mondrian painting, like a sequined canvas you'd see at MoMA: a sophisticated, wearable piece of art. I love, love it. 4. I love pink! Didn't Reese Witherspoon have the same pair in Legally Blonde? 5. These puffy sleeves! This kind of striped shirt always makes me feel like I'm a 19th-century newswoman working a printing press. Like these guys.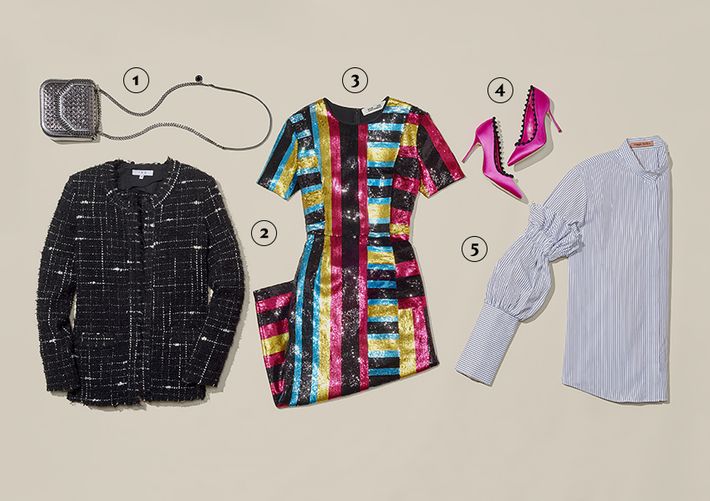 1. Stella McCartney Falabella Box Mini Wicker Metallic Faux Leather Crossbody Bag, $1,025; 2. IRO Espo Tweed Jacket, $545; 3. Diane von Furstenberg Back High Slit Sheath Dress, $1,700; dress 4. Manolo Blahnik BB 105 Pom-Pom Satin Pumps, $795; 5. Maggie Marilyn You Change the World Striped Cotton Button-Down Shirt, $495
Emily Sundberg, Instagram editor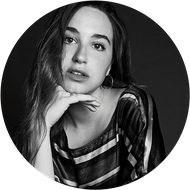 1. My mom always tells me to wear floor-length things in winter, saying, "dress for practicality, not fashion," but I don't think that has to be true! 2. Knowlita is my friend's brand! I'm so proud of what they've built. 3. I want a third of my closet to be trousers – throw on heels, sneakers, or loafers, and they're so flattering when tailored well. Theory nailed this plaid. 4. I could combat anything in these boots: with skinny jeans and an oversized sweater to combat the Sunday scaries, or a short skirt and blouse to combat a date. 5. I love the patriotic feel of red, white, and blue, but this is less Yankee Doodle Dandy and more Lana's "National Anthem."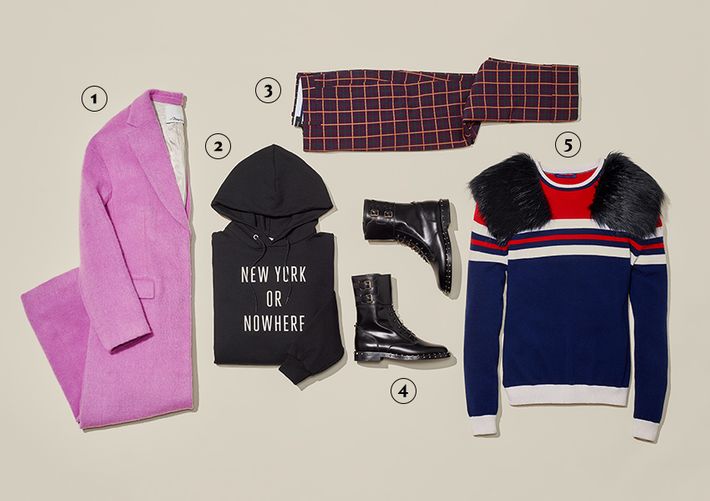 1. 3.1 Phillip Lim Long Tailored Coat, $1,695; 2. Knowlita New York Or Nowhere Hooded Sweatshirt, $115; 3. Theory Folded Cuff Cropped Pants, $345; 4. Valentino Garavani Soul Rockstud Leather Combat Boots, $1,745; 5. Harvey Faircloth Striped Sweater With Faux Fur, $475
Visit the Collective on the fifth floor at Saks Fifth Avenue's flagship, located at 611 Fifth Avenue, to shop more of-the-moment contemporary brands.
Photography by Corey Olsen. Styling by Caylah Leas.
This is paid content produced for an advertiser by New York Brand Studio. The editorial staff of The Cut did not play a role in its creation.