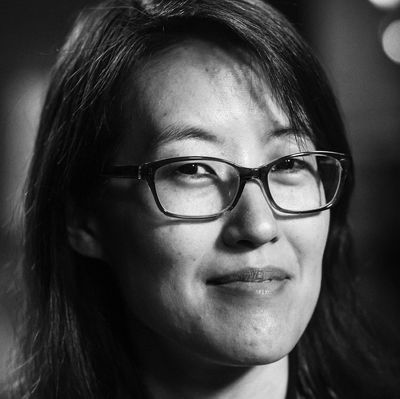 Ellen Pao says there was a difference in how men and women responded to her case.
Photo: David Paul Morris/Bloomberg via Getty Images
In May 2012, Ellen Pao sued her employer, venture capital firm Kleiner Perkins Caufield & Byers, for gender discrimination, unwittingly becoming one of the most prominent faces in the fight against sexism in Silicon Valley. Five years later, her book, Reset, is set to hit stores Tuesday, and in an interview with Axios, Pao talked about the differing reactions to her complaint against Kleiner Perkins — and how they reinforced its necessity.
"Male reporters, for the most part, were skeptical of me and did not understand, had no empathy for my experiences," she said. "You could see it in the reporting." On the other hand, "I think a lot of the women reporters had had similar experiences, many of them had been harassed," she said.
Though some men related her experiences to those of their daughters, mothers, or female co-workers, Pao said that there was "definitely not as much [support] from men as from women and more from people of color than from people who were white."
In the end, Pao said the verdict depended on whether or not the jurors believed there was bias against women in the tech world — and they "just didn't believe me," she said. But she's hopeful that future jurors will be better informed.
"I think the press and the public are more educated about all of the toxic behavior in tech," she said. "So I hope those jurors would have made a different decision"