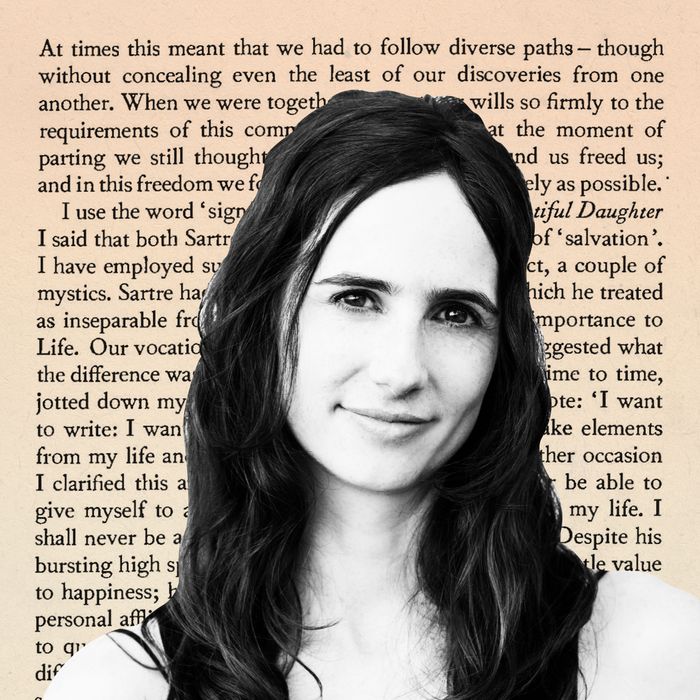 Emily Witt.
Photo: Noah Kalina
A few years ago, I found a crumbling copy of Simone de Beauvoir's memoir The Prime of Life. It's the second in a series of memoirs she wrote, and covers the time in her life from when she's about 21 to when she's about 40. She's fallen in love with Jean-Paul Sartre and decides that she's never going to move in with him, she's not going to have children, and they're going to have an open relationship in which the only rule, really, is honesty. She believes the only way to escape the patriarchy is to defy these institutions — so, for her, denying marriage and denying a domestic relationship saved her from falling into habitual gender patterns.
It's really a book about trying to live your life according to a set of ideals. They were existentialists, so they believed that the way you live your life should be informed by phenomenological lived experience rather than inherited rules and structures. When I first read it, I had started writing my book Future Sex. I thought of myself as a sexually conventional person, but I never bothered to question why I felt that way.
Now I think I've almost assimilated my life to the book, to a certain extent. I'm not as ideological as de Beauvoir is. I'm more bound by convention. I'm not going to protest moving in with my boyfriend because I know it might mean I'm going to clean the toilet more. But I have more of an impulse to question whether something is natural or good just because everybody else is doing it. The book shows the worth of experimentation, even if it fails or if it's painful. And the idea that you can go through life with a philosophical ideal that you're trying to attain. Hers was a commitment to honesty, a refusal to blindly accept hypocrisy, a drive to challenge historical gender roles, and those are principles I try to live by, too.