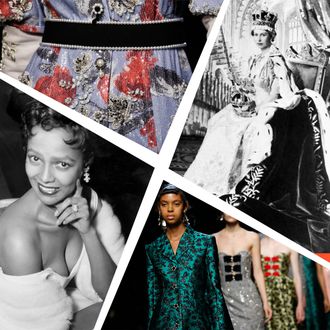 Dorothy Dandridge, left, and Queen Elizabeth II.
Photo: Getty Images
Designers like to fuse together the most disparate influences. Only at a Fashion Week would you see 1950s actress Dorothy Dandridge, Duke Ellington, Billie Holiday, and Queen Elizabeth II referenced in one collection. Today in London, Erdem took inspiration from a 1958 photo of the Queen and the Duke. His designs re-imagined what would happen if the Queen had a Freaky Friday moment and swapped lives with Dandridge. The result was an Instagram-ready show.
The runway opened with a recording of the Queen, which transitioned into jazzy numbers including "My Funny Valentine." The models showcased the best of both worlds: the hair was prim and proper in the style of Elizabeth II herself. Coupled with tweed suiting and delicate floral dresses, the looks were royal but still playful. Erdem is really known for his dresses, and this round didn't disappoint: there were plenty of party-ready outfits, tinsel-y looks, and ball gowns, too.
The finale clinched the show. After the models completed their traditional final walk, they returned and posed in vignettes along the runway, which had been styled like a 1920s speakeasy with gold palm trees, vintage microphones, and lounge chairs. The scene served for better Instagram fodder than the typical blurry runway snap — Erdem's most ingenious choice of all.