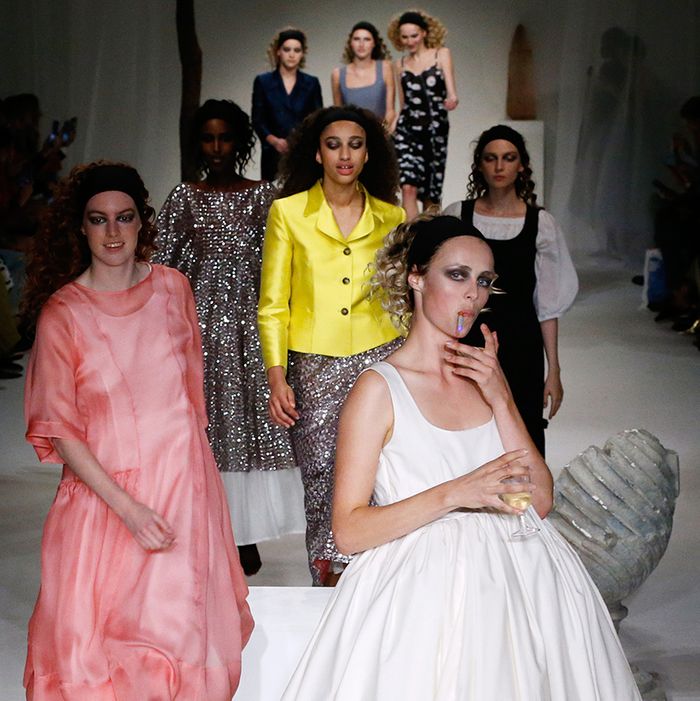 Model Edie Campbell at designer Molly Goddard's Spring 2018 runway show in London.
Photo: WWD/REX/Shutterstock/WWD/REX/Shutterstock
Saturday mornings are meant for relaxed, alcohol-filled brunches, so it only made sense that designer Molly Goddard threw one for her Spring 2018 runway show in London. Model Edie Campbell kicked off the show wearing an airy white dress and black headband. She strolled down with a glass of wine, twirling and stopping to pose every so often before taking a long puff off her vape at the very end.
Following her came girl after girl, each taking a moment on the platforms in the center of the runway. Some did stretches while others  struck elaborate poses to the cheers of the crowd. Clad in Goddard's signature voluminous tulle dresses, it was a mix of models and real girls who weren't afraid to have a good time, both on-and-off the runway.
But it was really the end that clinched it: Goddard convinced Erin O'Connor to close the show in a sparkly, voluminous collection that flared out as she spun over and over. If anyone could be the human version of the Kirakira app, it was her. When she took her final walk with Molly, all you wanted to do was grab a glass of wine and join them on the runway.