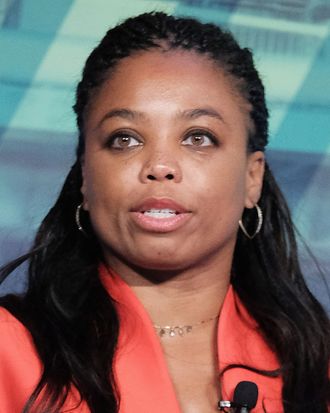 Jemele Hill.
Photo: D Dipasupil/Getty Images for Advertising Wee
Earlier this month, ESPN anchor Jemele Hill sent out a series of tweets calling President Donald Trump a white supremacist and "unqualified and unfit to be president." Her remarks quickly became the subject of controversy — and White House press secretary Sarah Huckabee Sanders even called for her firing during a briefing.
On Wednesday, Hill published a powerful essay on the Undefeated about her tweets, the aftermath, and why she always tries to do "the right thing." Here are some of the most moving excerpts from her essay.
On her comments' impact on ESPN:
It was the first time I had ever cried in a meeting. I didn't cry because [ESPN president John] Skipper was mean or rude to me. I cried because I felt I had let him and my colleagues down. Since my tweets criticizing President Donald Trump exploded into a national story, the most difficult part for me has been watching ESPN become a punching bag and seeing a dumb narrative kept alive about the company's political leanings. 
On why she decided to speak out:
I can't pretend as if this isn't a challenging time in our country's history. As a career journalist, I can't pretend that I don't see what's happening in our world. I also can't pretend as if the tone and behavior of this presidential administration is normal. And I certainly can't pretend that racism and white supremacy aren't real and that marginalized people don't feel threatened and vulnerable, myself included, on a daily basis.
On sports and politics:
The events of last weekend showed that the intersection of sports and politics is the most pronounced we've seen in decades. Sports always has been intertwined with social change in America. But let's not forget some of the athletes who instigated that change — Jesse Owens, Wilma Rudolph, Muhammad Ali, Curt Flood and Jackie Robinson — only became beloved icons once history proved them to be right.
On her grandmother teaching her to do the right thing:
As I think on it now, I wonder about the real lesson my grandmother, who died seven years ago, wanted me to learn. Sure, not stealing is the obvious takeaway. But maybe the larger point was: Be better. No matter what.
Check out the full essay here.