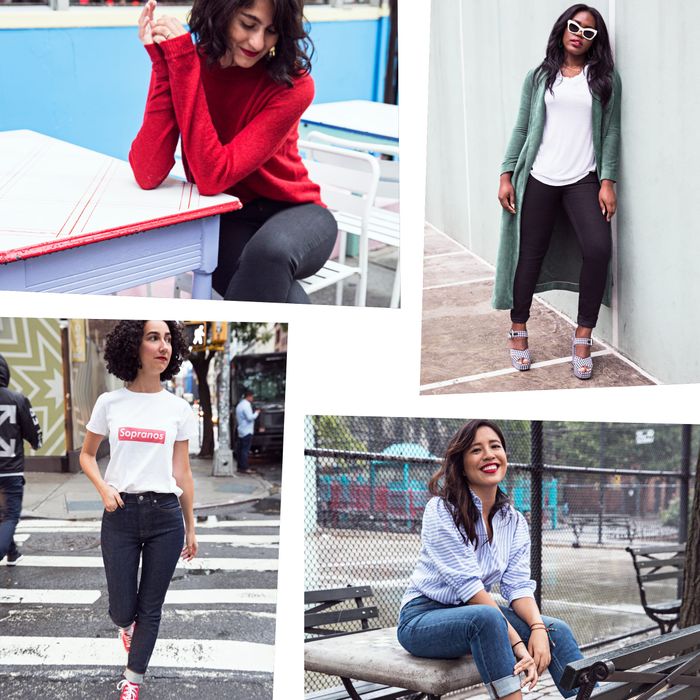 Photo: Victoria Stevens. Photo Editor: Biel Parklee.
News of Everlane's foray into the denim market broke less than two weeks ago, but that hasn't stopped the brand from amassing a wait list of over 40,000 people. Officially launching today, the jeans collection is comprised of both men's and women's styles, with the latter including high-rise skinny, mid-rise skinny, and boyfriend fits. Made of high-quality Japanese denim, they range in size from 24 to 32 and come priced at a very friendly $68.
With so much hype surrounding the release, the Cut decided to test-drive the styles for ourselves. Read on to find out how the jeans look and feel on five Cut staffers.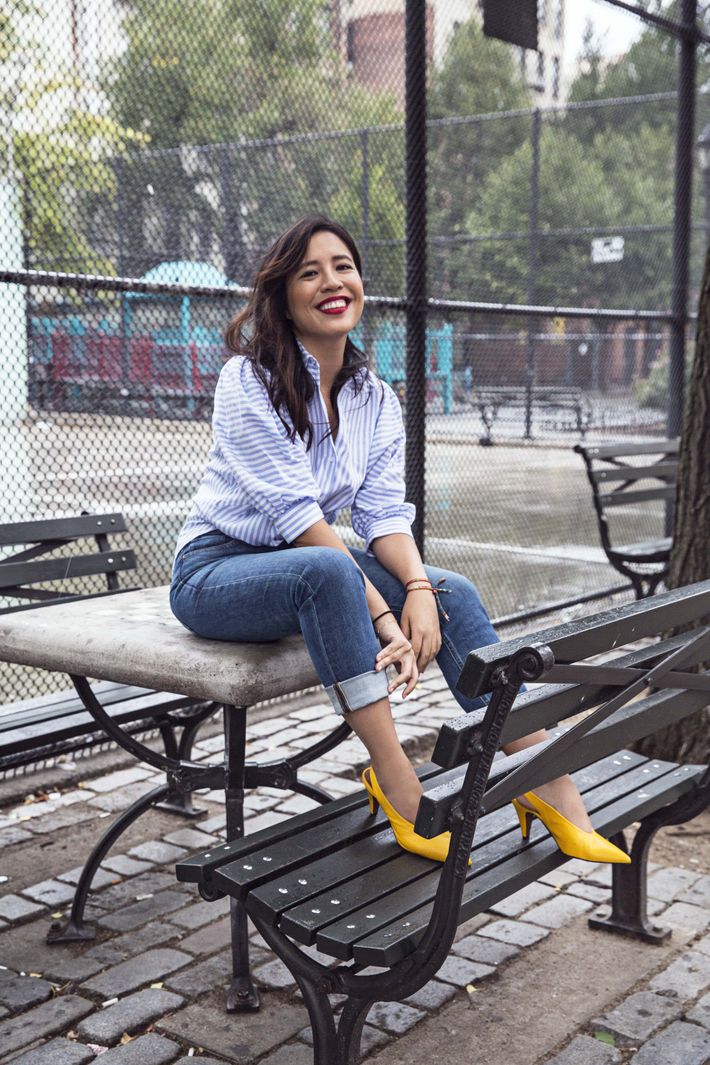 Kathleen Hou, Beauty Director
I wear jeans fewer than ten times per year. I like to be somewhat comfortable, and in my experience, only uncomfortable jeans look good. On a grid where X is comfort and Y is style, Everlane's jeans fall somewhere in the middle. They have enough structure to hold you in, but they're stretchy enough not to require a grueling breaking-in process.
The modern boyfriend fit runs close to the body, with a straight leg. It complemented my curvy thighs and had a flattering high-rise waist (but be warned, it looks nothing like it does on the model). It's also not absurdly long, so even petite women won't have to do extensive hem tailoring. Crucially, the butt pockets are nicely placed and shaped — not too small, but not so far apart that they make your butt look square.
As someone who almost exclusively wears skirts and dresses, I can't say the jeans immediately won me over, especially since the waistband seemed to stretch out pretty quickly. But the number of compliments I got while wearing them for 30 minutes outside may be the first step in my conversion.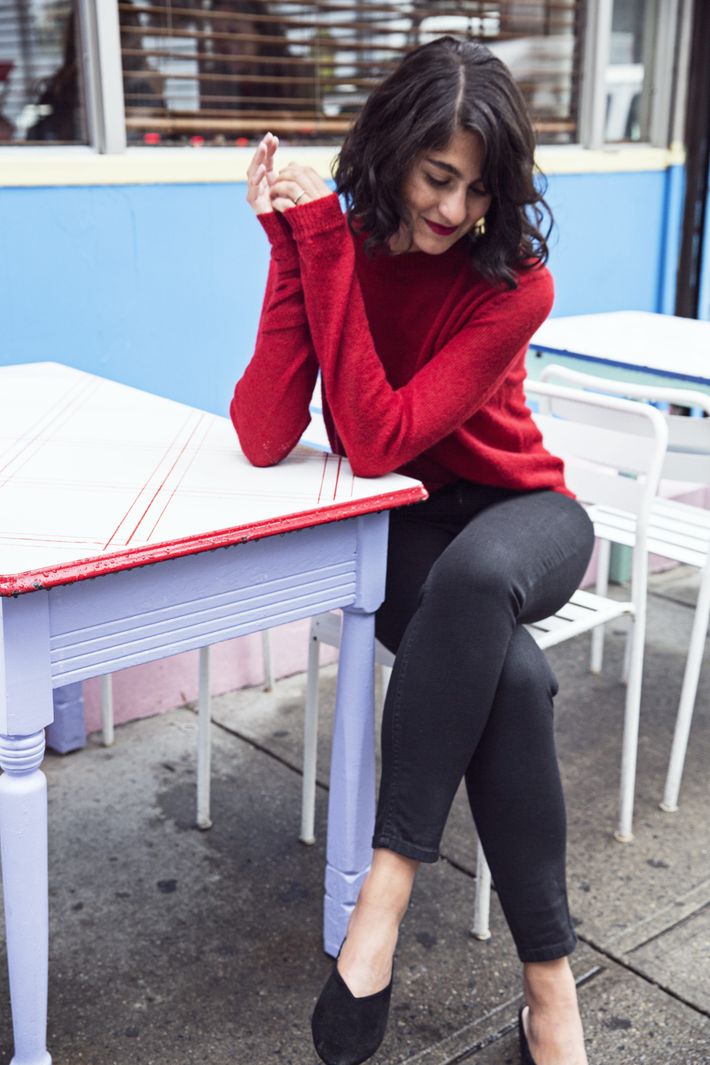 Gabriella Paiella, Senior Writer
First of all, let me just say that I'm so happy to be alive during a time when high-rise jeans are in. I came of age during the ultra-low-rise days of yore, and for that reason, until recently I thought of jeans as wildly uncomfortable flesh traps. The high-rise skinny is the ideal everyday black jean: The denim is substantial, with a flattering cut and just the right amount of give. Excited to wear these for too many days in a row.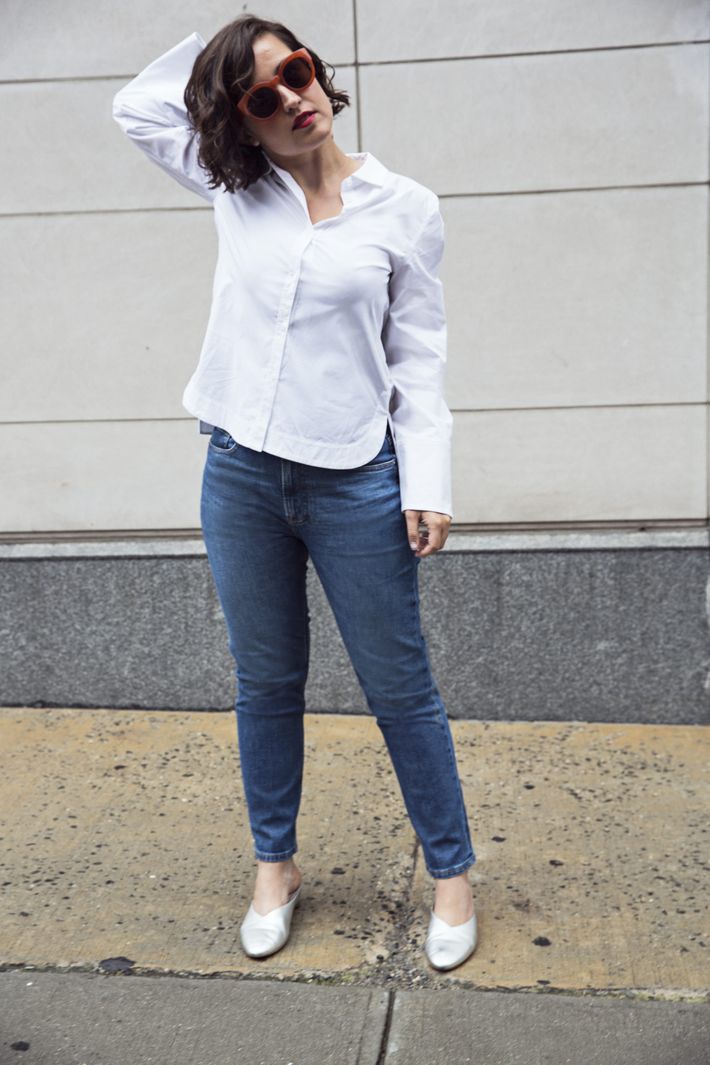 Aude White, Communications Manager
I'm a committed wearer of high-waisted skinny jeans, and I've always been skeptical of the absurd concept of "boyfriend jeans." But I found that I liked the modern boyfriend much more than I expected to. They fit in that "ugly, but in a cute way" style that is cool right now (excited that I get to be cool for a minute). They're also soft, just the tiniest bit stretchy, and fit my legs snugly enough that I don't look like I ran out and bought myself jeans in the wrong size. Anyway, I'm wearing them of my own free will as I write this, so that's ultimately the only point I've made that really counts.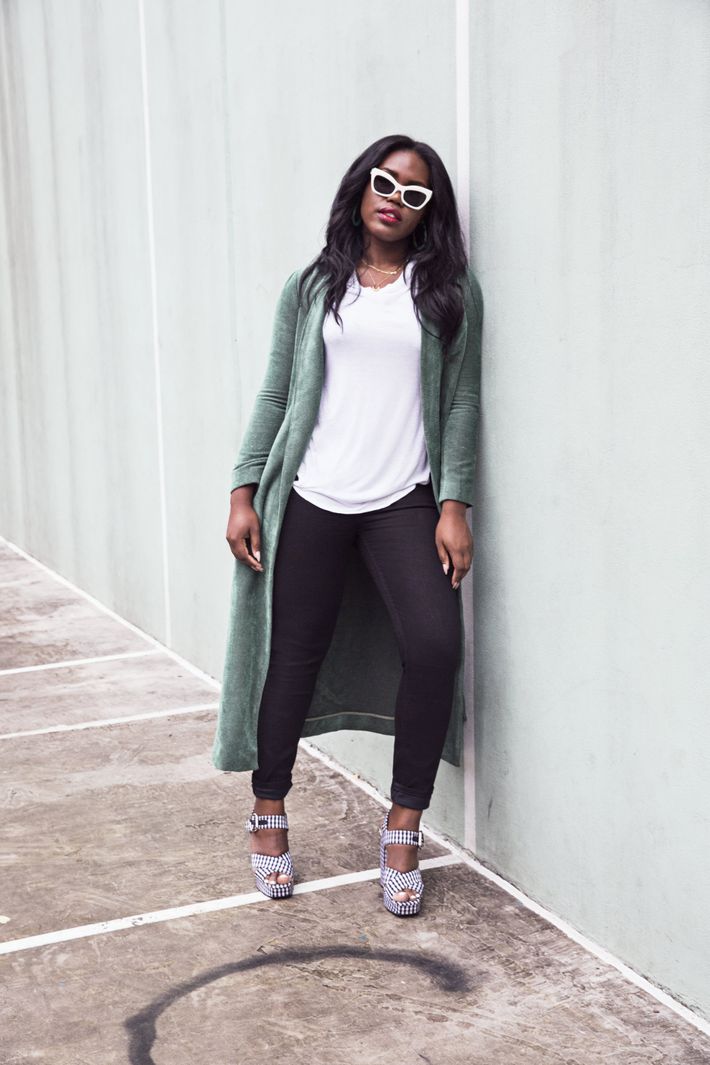 Indya Brown, Fashion Market Assistant
The rigid denim trend has been slowly taking over the denim market, but when you're more gifted on the backside, it can be uncomfortable. I hate feeling like my jeans are battling my curves, rather than embracing them. At the same time, though, I don't think anything beats the look of rigid old-school denim. I found that Everlane's skinny jean is the best of both worlds. Somehow the denim is very structured but still offers give where you need it. I'm just waiting on a mom cut, and then they can have the rest of my paychecks.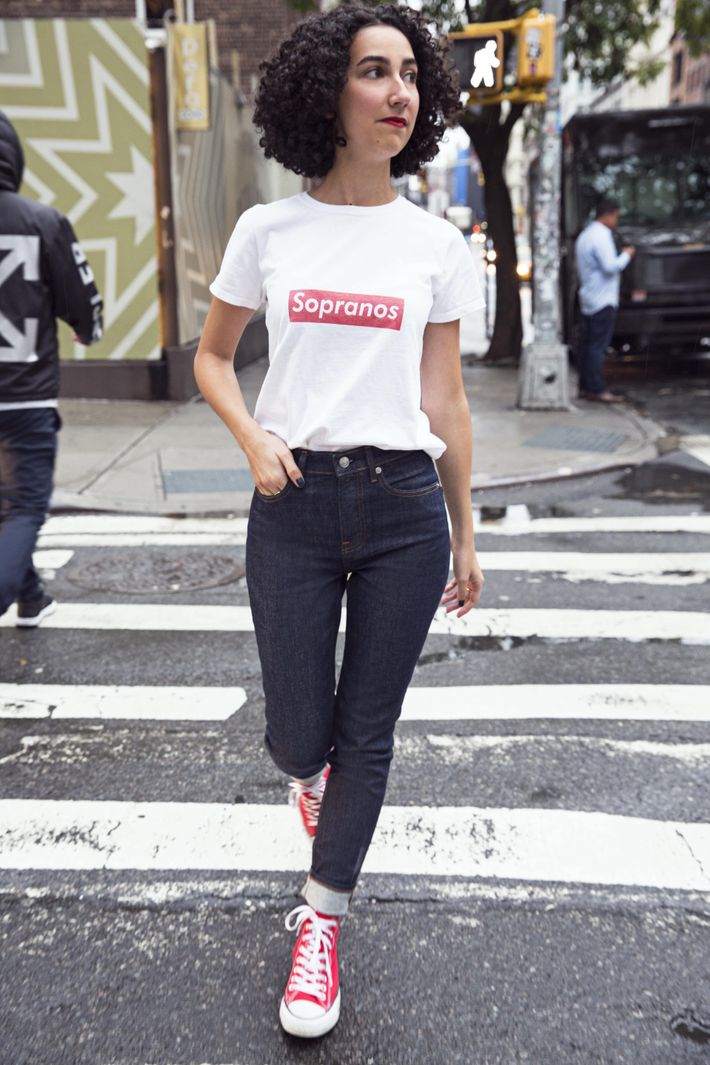 Emilia Petrarca, Fashion Writer
I've been lusting after a dark indigo denim wash ever since Calvin Klein did a similar look last season. It reminds me of the guys in Grease or James Dean, which is why I decided to cuff my mid-rise skinny jeans with Converse and a T-shirt. As it gets colder, I'll definitely do the full costume with Chelsea boots and a jacket — either in leather, or the same dark indigo denim wash, which I now have an excuse to find and purchase as well. (Can you make that, too, Everlane?)
In addition to the vintage, menswear style of these jeans, I also prefer the toughness of their material. As a petite person, I hate starting the day with my jeans fitting perfectly, but ending with them one size too big. These jeans are stubborn, though; they don't stretch out.
Production Credits:
Photos by Victoria Stevens
Produced by Biel Parklee
Hair by Angela Soto at See Management
Makeup by Matthew Sky at Next Artists
If you buy something through our links, New York may earn an affiliate commission.