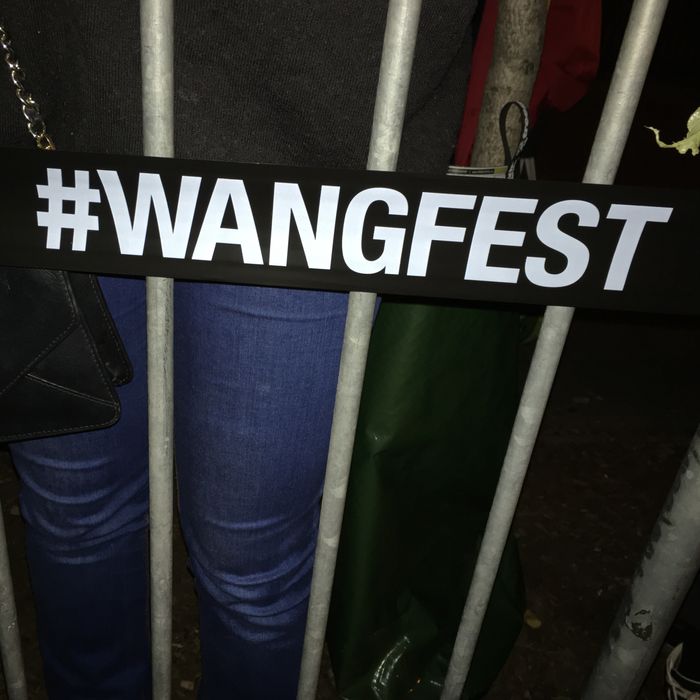 WangFest.
Photo: Courtesy of The Cut Editors
Alexander Wang is no stranger to spectacle, and this season, just one runway show wasn't enough for him. The designer surprised the Nolita crowds with a spring/summer 2018 show outside La Esquina taqueria earlier this evening, then moved his models to Brooklyn for a runway show slated to begin at 9:30 p.m. Below, here's how the traveling circus known as WangFest unfolded throughout the night.
WangFest began this morning outside the Alexander Wang store in Soho, where the brand gave ticket wristbands to 100 lucky fans. The giveaway started at 11:00 a.m., though people were camped out long before then.
Hours later, Lafayette Street in Nolita was home to a mysterious installation: The sidewalk was barricaded, a black van marked #WANGFEST blocked off an intersection, and trucks drove by with lighting equipment. Wang's cast hung out nearby in party buses, captured on a livestream as video-esque surveillance footage.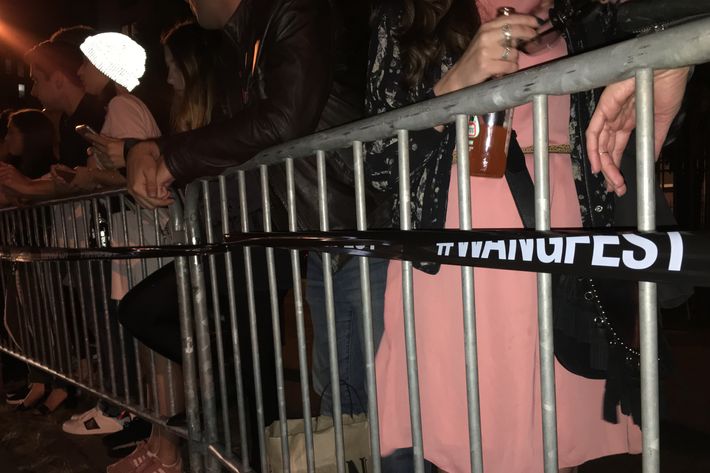 Harley Davidson motorcycles roared down the street, and then all became clear: The first runway was right here, on Lafayette Street. Kaia Gerber opened the show in a tight white dress, followed by Suki Waterhouse. Models paraded by in mostly black-and-white outfits, with some military green thrown in. Kendall Jenner, Bella Hadid, and other models wore festive headpieces — like a New Year's Eve crown, but for WangFest. Here's Kendall:
The show closed with Wang triumphantly running down the street while models climbed out of one party bus and directly into another. Next stop: Bushwick, Brooklyn.
Across the river, Kim Kardashian and mom Kris Jenner waited to see Kendall and her party hat. Like other VIPS at the show, including Sofia Richie, Pom Klementieff, Natasha Poly, and Presley Gerber, they were treated to Shake Shack while they waited for the buses to arrive. (The rest of the crowd, sadly, went burgerless.)
Finally, the show began. Like in Nolita, trucks filled with lights pulled in first. Kaia Gerber opened again, making it technically her third runway opening. And models in the same cycle of looks strutted out of one party bus, down the runway, and into another. To see the whole show, watch the video below, and stay tuned to find out what happened at the afterparty — because after all, WangFest isn't over until the last party guest goes home.