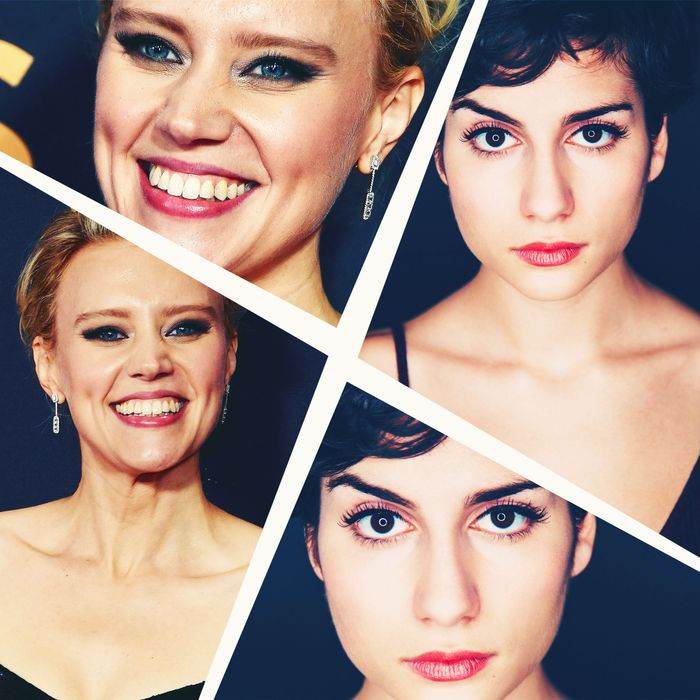 Kate McKinnon and Jackie Abbott made their first public appearance as a couple at the Emmys.
Photo: Getty Images; Courtesy of Jackie Abbott
Kate McKinnon is a single cat-lady no more — on Sunday, she and her girlfriend Jackie Abbott made their first public appearance together at the Emmys. McKinnon, who won for Best Supporting Actress in a Comedy Series thanks to her consistently flawless performance on Saturday Night Live, hugged Abbott after her name was called, which was extremely cute. The pair later posed for a group photo with the RuPaul's Drag Race cohort.
Like an approving mom, Drag Race's Michelle Visage wrote that McKinnon's "girlfriend Jackie was just as lovely as she is!!" And after carefully combing her online presence, we can confirm that Abbott is pretty dope. Here's what you need to know about her.
1. The basics. Abbott is an actor and artist who's from Stamford, Connecticut, and is now based in New York City. She graduated from New York University's Tisch School of the Arts with her BFA in drama, and she's taken classes at other impressive places like the Upright Citizens Brigade (that's UCB if you're in the "industry") and the Lee Strasberg Theatre & Film Institute. The internet does not explicitly mention her age because female actors are supposed to be young and hot forever, but she graduated from NYU in 2014, so she's probably around 25.
2. She's funny as hell. I know this because I read the "hello" page on her website and laughed at least three times. For example: "Jackie explored many careers in her childhood, mostly via finger-painted portraits … which her parents use to insulate the attic." Classic.
3. She has the range. According to her résumé, Abbott has credits in projects like "Miss Sugar Tit" and "Murder, My Tweet," and her special skills include golf, Argentine tango, clowning, and two different types of martial arts: Eskrima and Capoeira. Oh, and she's also a photographer.
4. You guys would totally be friends. Her Facebook cover photo is a Carol meme, her acting reel is set to Ani DiFranco's "Both Hands," and according to People, she and McKinnon were last seen together in April of 2016 at a production of Fun Home — the musical adaptation of Alison Bechdel's widely popular graphic novel. Need I say more?