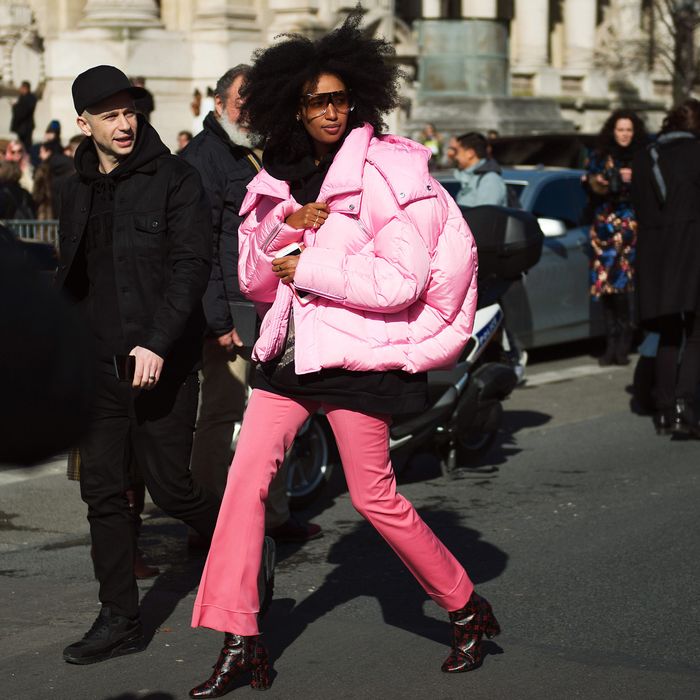 Julia Sarr-Jamois looks ready for winter.
Photo: Youngjun Koo

Welcome to Extremes, a series examining the outer edges of style.
Most extreme fashion trends never make the leap from the runways to the subway platform. But here's one that sits at the happy place between practical and cool: Big outerwear. Massive down puffers and sweeping wool overcoats were everywhere last Fashion Week, and they're exactly what you need when the temperature takes a nosedive. It might still feel summery out there, but now's the time to buy, before winter panic sets in. Scroll ahead to shop our favorites at every budget.
The Julia Sarr-Jamois Dupe
Love the pink number on Jamois above? This is a good budget look-alike.
In case pink isn't your color, try this lavender shade.
When You Own Too Much Black
Forest green is a classic alternative.
If You Have the Winter Blues
A coat that reminds you of sunny skies is a good mood booster.
When You Like to Pile on the Layers
Swing sleeves and a roomy body means that you can wear as many sweaters as you need.
If You Want to Be Swaddled in Warmth
Photo: 17-09-01 jessieli AM1 B1 robstebler W
The closest you'll get to wearing your favorite blanket out of the house.
If You Want to Look Like Emmanuelle Alt
The French Vogue editor loves a double-breasted, gold-button coat, especially with skinny jeans and spiky boots.
Photo: 17-09-12 maritzaveer AM1 B1 chelseaprice W
On a brisk day, you'll be happy to hunker down between those big, fuzzy lapels.
Ready to plunk down some substantial cash on a beautiful coat? Camel wool-and-cashmere is a safe bet.
The Street-Style Favorite
From the same mind who thought up the most popular dress at New York Fashion Week comes this color-block number that'll definitely be a big hit come February.
The One That'll Sell Out Fast
Mansur Gavriel's clothes sold quickly the day they debuted on the runway, but Net-a-Porter has a little more stock left if you missed this one the first time.
If you buy something through our links, New York may earn an affiliate commission.