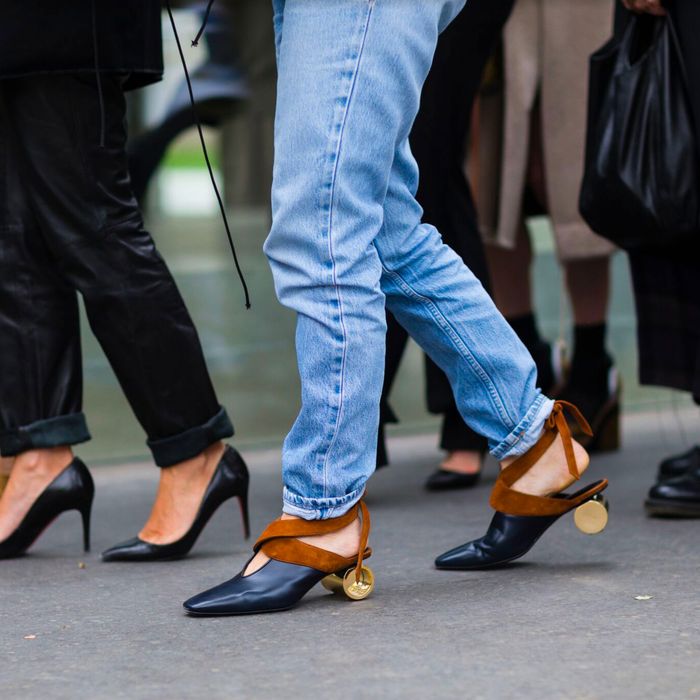 A series examining the outer edges of style.
What do eggs, elephants, and lighters have in common? They're all different shapes of heels that you can buy this fall. Like many weird trends, you can blame this one on Vetements. Over the past two years, the Vetements booties with Bic lighters in the place of stiletto heels have become a huge street-style hit. In their wake, the backs of shoes have become increasingly sculptural and unexpected.
Of course, a trend this high-concept doesn't come cheap, but it's fun to look — and to imagine what sort of lifestyle might require spending nearly $1,000 on heels that spell "Call me" in French. Scroll ahead to check out the best strange-heeled shoes of the season.
The Heels That Started It All
Trendy, yes, but if you're a purist or Demna fan girl, this is your holy grail.
Glittery and ready for the holidays.
The Mid-Century-Modern Heel
Chrome and wood will match your living room perfectly.
Step on an egg without making a mess.
Tell your friends you got them at a trunk show. (Har.)
The Heel That Does All the Talking
Call me, s'il vous plait? Bisous!
The Row took inspiration from the colorful vases of Venetian architect Carlo Scarpa to create these swirled, glass-like heels.
The Other Street-Style Favorite
If you buy something through our links, New York may earn an affiliate commission.