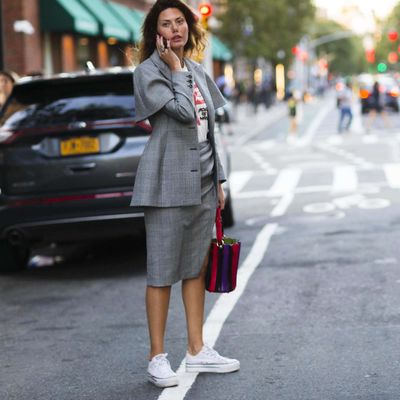 Cheap and Cheerful is a weekly column that highlights the chicest inexpensive finds. Because nothing's more satisfying than looking good while spending less.
In a Fashion Week fog of Balenciaga sock boots and quirky Céline sandals, designer Sara Battaglia's street style was a breath of fresh air. She wore a gray-checked skirt-suit and carried a colorful bucket bag from her own fall collection, but what made the look was her $60 Converse sneakers.
Recall the feeling of getting a fresh pair of kicks for the first day of school: You wanted to wear them with everything, right? This is the Fashion Week version — and unlike those Balenciagas and Céline's, you can get them all for under $120. Read on for eight options inspired by Battaglia's look.
The Ones She Actually Wore
Like a grown-up version of Ginger Spice's '90s platforms.
Because the Puma Creepers Are Sold Out
Another versatile style by the sporty brand.
The Ones for Color Fanatics
Photo: afront
Here's a way to do color and white sneakers at the same time. And they say you can't have it all!
French brand Veja's sneakers are made out of organic and fair trade materials, and unlike Stan Smiths, you probably won't see them on every trip to the deli.
Clothing brand A.L.C. partnered up with Nike to take on the 70s mainstay, the Cortez. A cool feature: The laces are just long enough to be worn like a ballet slipper.
For the Perpetually messy
This eggshell knit will survive the occasional puddle, and it's so breathable.
Photo: afront
Tretorn is quietly making a comeback among fashion types, and the deep blue accents feel right in line with the season.
Topshop's sneaker selection was made for minimalists who want to spend under $50.
If you buy something through our links, New York may earn an affiliate commission.