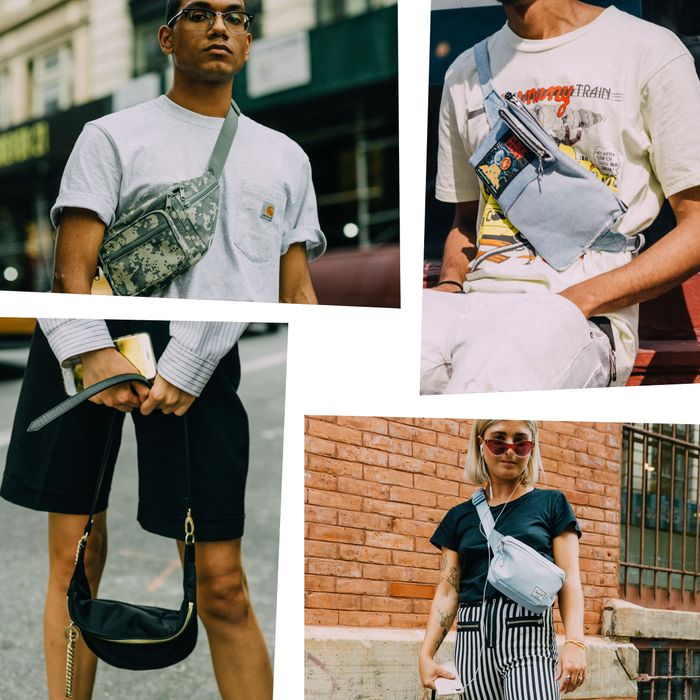 Photo: Sean Williams. Photo Editor: Biel Parklee.
If you've ever accused someone in your life of being so embarrassing for wearing a fanny pack, you probably owe that person an apology. The year's most popular accessory is a fanny pack — or a "waist bag," if you're feeling sophisticated — and New Yorkers are giving the look another chance, in ways you might not expect.
The trend solidified last year in the menswear world, stemming from some star-crossed amalgamation of normcore, dadcore, gorpcore, and Shiacore. It then appeared on the runways, with brands like Coach, Prada, Off-White, and Gucci all giving it the high-fashion "nerd" treatment. Next, it was adopted by celebrities like Kendall Jenner and Jared Leto, as well as by street-style stars the world over.
Finally, somewhere down the line, someone figured out that fanny packs could also be worn as shoulder bags, rather than just waist bags. Most likely, it was a real-life, actual skater or biker who needed easy and comfortable access to their things while on the go. Someone cool in Japan or New York then saw it and copied them, only to discover it was great for raves, music festivals, shopping, or whatever cool people need both hands to do. And eventually, it went from a high-fashion "look" back to its streetwear roots, with Supreme, Nike, and North Face being the brands of choice once more.
Before long, though, A$AP Rocky was doing it, models were doing it, and sure enough, a Supreme x Louis Vuitton red fanny pack walked the runway in Paris as a shoulder bag this winter. The metamorphosis of your parents' favorite accessory was complete; fanny packs were officially cool.
"Technically, it's not a 'fanny pack,'" said Nicholas Campbell, a 23-year-old stylist spotted wearing one on the streets of New York this summer. "It's a shoulder bag."
Whatever you want to call it, though, it's a trend. And New Yorkers can't get enough of it, as it fits with their transient lifestyle and no-fuss attitude.
Stay tuned for Leonardo DiCaprio's belt bag next season.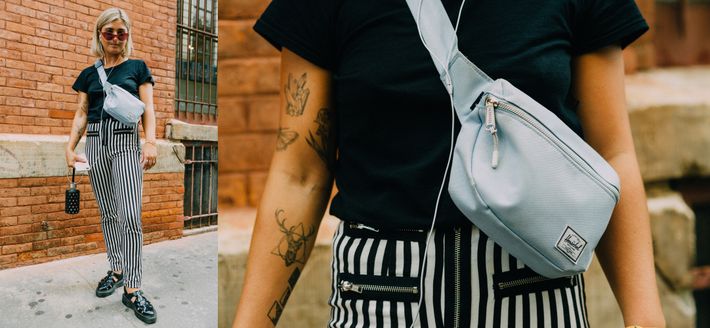 Emilia Esser
22, creative director "I'm wearing my fanny pack as a camera bag; it's a perfect fit for my camera and a couple of extra films! I'm using it pretty much every day. It goes with all my looks."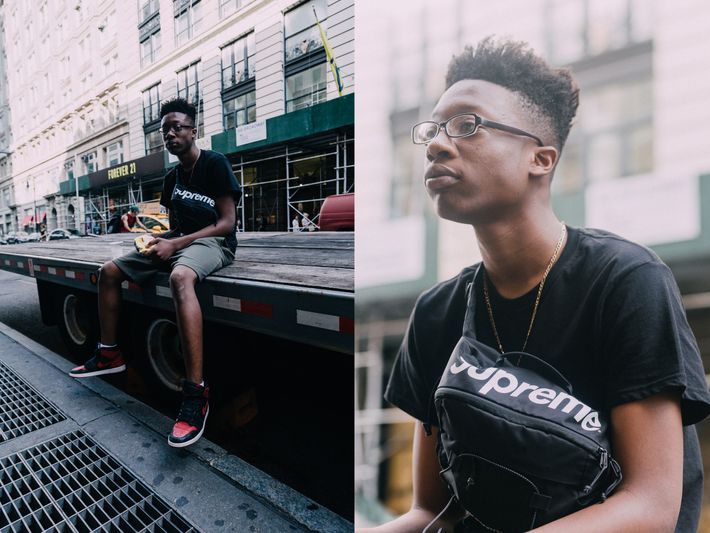 Ali Konate
18, student "I wear my waist bag like that because it gives easier access and feels more stylish."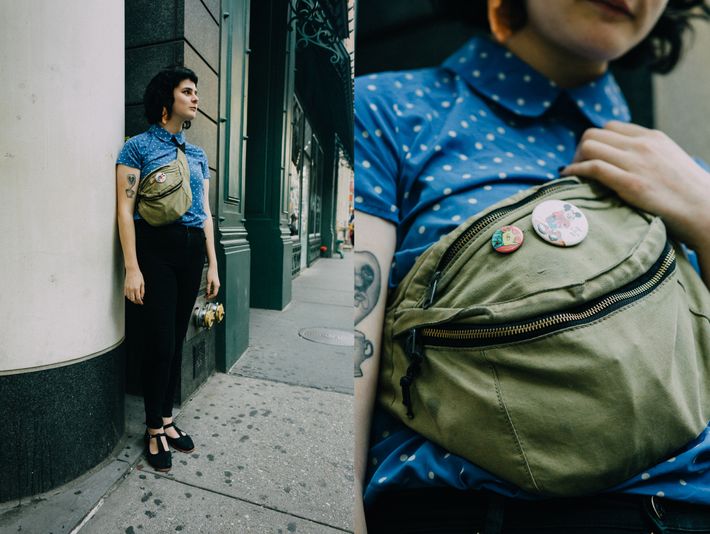 Brittney M.
22, student "I really like decorating and changing the pins and patches on my fanny pack. Since it's on the front of your body, it really changes the vibe of the outfit like any other accessory. I styled it with a funny Mickey Mouse pin I got at a flea market in Philadelphia. I added it because it reminds of me of fun times with friends a few summers back."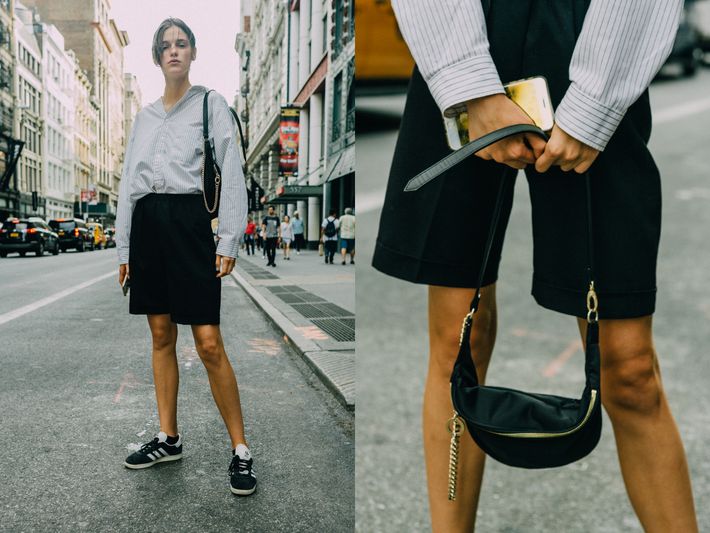 Inga Dezhina
18, model "I really like this kind of bag because it's comfortable and I can wear it with everything."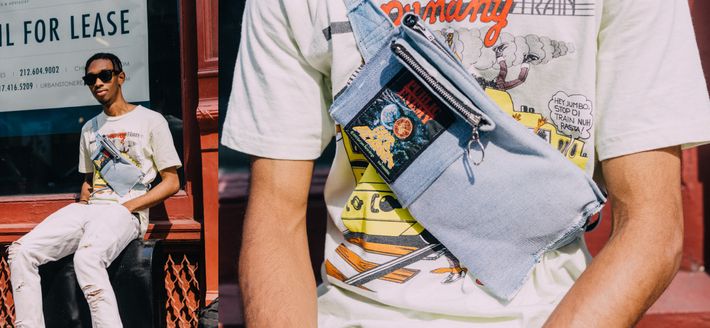 Jalil Howard
20, fashion designer "I actually designed it to be a shoulder bag, it just has the fanny-pack look because of its size perhaps. I like the convenience of being able to wear something to carry small items in besides your pocket. It can also make a simple look stand out if you coordinate it right. I'll be designing some more and putting them on my website soon!"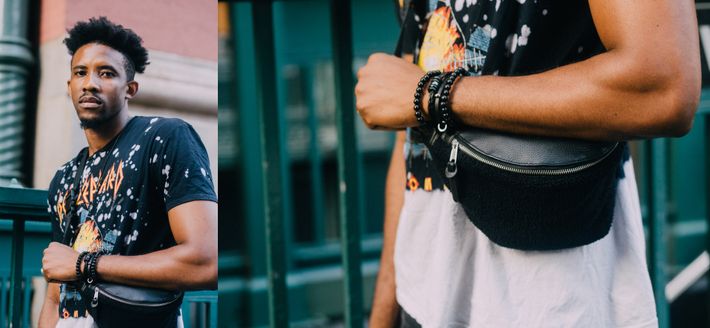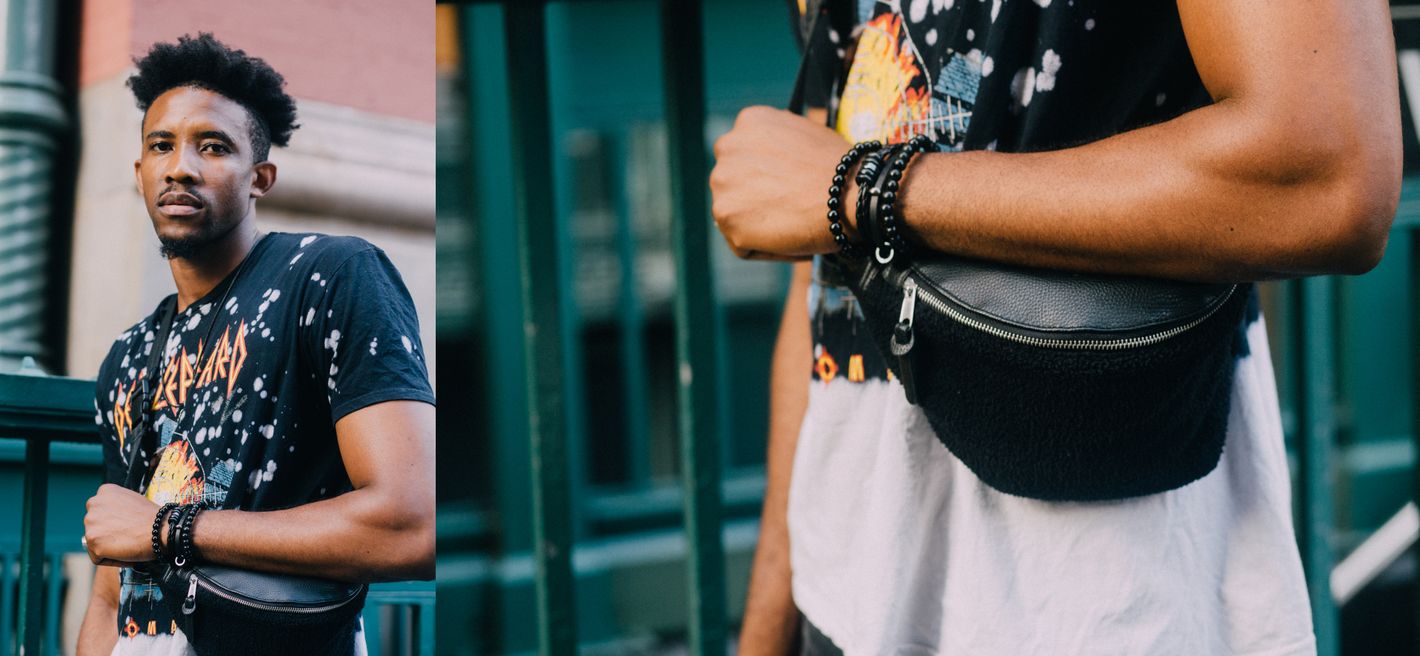 Mashell Goodluck
30, creative director "It's comfortable, stylish, and fits all my personal stuff I need while on the go. I'm not really a backpack kinda guy, so the fanny pack is definitely a plus. Also, I can wear it many different ways to help enhance my look. It's an accessory and statement piece. I also have another one which I customized to say, "Nobody Cares."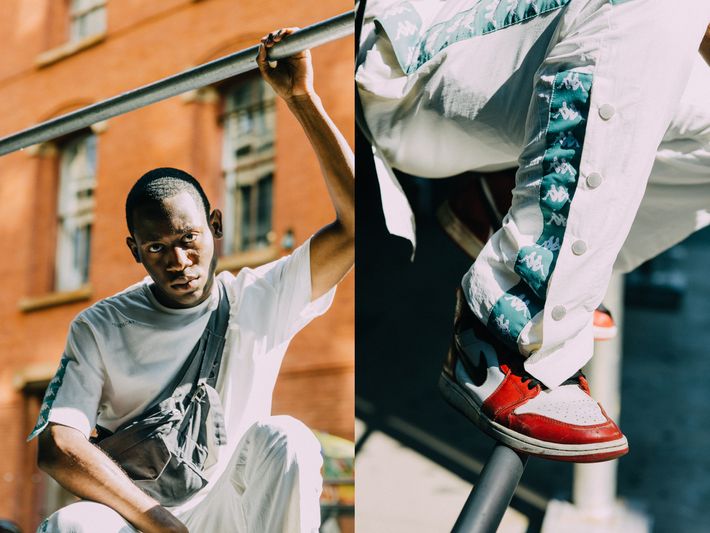 Nicholas Campbell
23, stylist "Technically it's not a "fanny pack" it's a shoulder bag. There's a strap on the bag that lets you adjust the comfortability."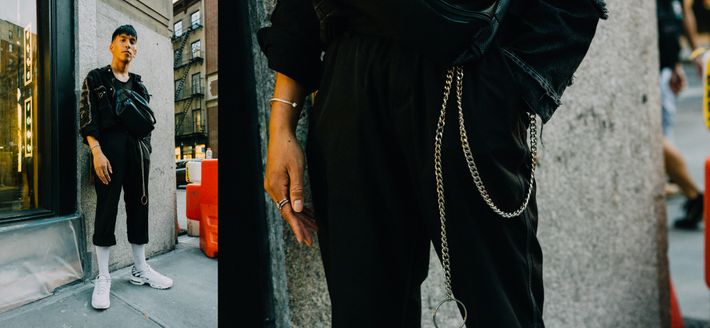 Nixon Rithvixay
26, fashion photographer "I like wearing a fanny pack because it allows me to carry light and have quick access when I need something. That's the reason why I have it strapped in front of me."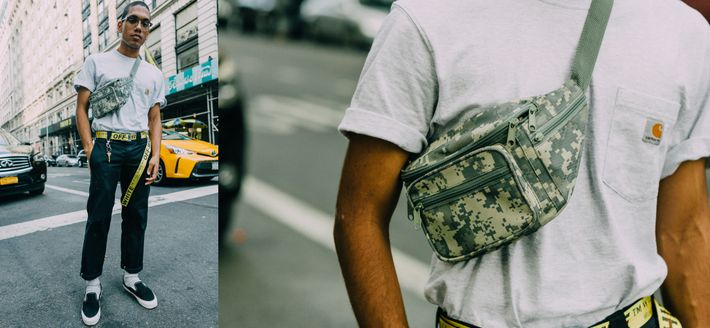 Omar Arif
"I'm used to wearing it over my shoulder instead of my hip while skating around. I'm a big fan of Virgil Abloh's Off-White aesthetic which demands an unconventional approach to archetypal, clean-cut fashion."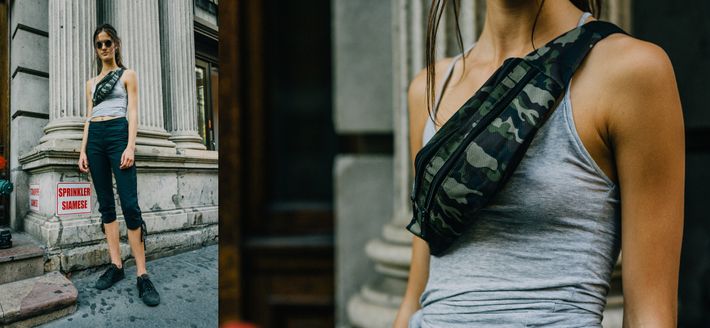 Sarah Abt
17, model "I like wearing a fanny pack because it's low-maintenance. I styled my fanny pack over one shoulder because I thought it looked different."