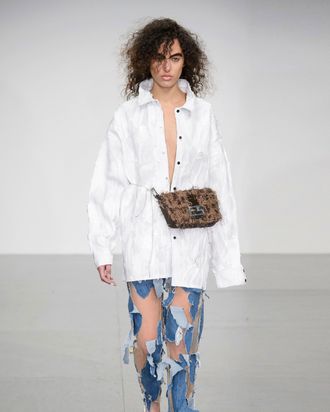 Photo: Alessandro Lucioni/IMAXTREE.COM
Faustine Steinmetz isn't afraid to root herself in late '90s and early aughts nostalgia. For her spring 2018 collection today at London Fashion Week, the designer drew inspiration from Britney Spears and Justin Timberlake's notorious denim-on-denim looks and Paris Hilton's low-rise hip-huggers. For this runway debut, she decided to riff on a different iconic trend: the logo bag.
Worn with everything from destroyed trench coats to deconstructed track suits and coated denim, the handbag could at first glance be mistaken for a Fendi baguette. But upon closer examination, you'll notice that Steinmetz flipped the logo. Instead of interlocking F's, her initials appeared on each bag: F and S. It was cheeky, but that's the brand's point — classic pieces like jeans, T-shirts, and bags are ripped apart and re-imagined in unconventional ways. Maybe it's time to whip out the logo pieces you have tucked away in your closet?