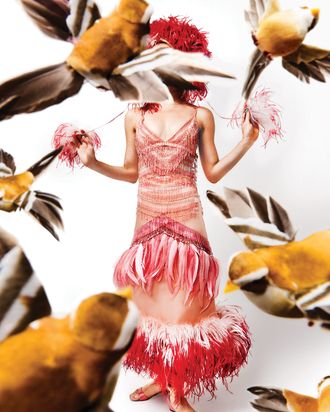 Finer Things is a photo series with a playful approach to elusive, glamorous fashion items we're fixated on right now.
Behold the power of the feather: In 1925, Josephine Baker made her Parisian debut in the Revue Nègre at the Théâtre des Champs-Élysées performing the "Danse Sauvage" and wearing only a bit of jewelry and a skirt made of ostrich feathers (she later swapped said skirt for one made of bananas). She went from chorus girl to showstopper practically overnight. The French press called her "the most radiant of all temptresses ever to grace the Paris stage." The look was brought up to date at Prada's Fall 2017 show, where nearly every look was tipped with plumes, ranging from head-to-toe. A nod to Baker, this pink-plumed skirt, beaded bralette, and hat brought to mind her showgirl appeal.
Prada top, $2,480, skirt, $6,090, and hat, price upon request, at 575 Broadway; (212) 334-8888.