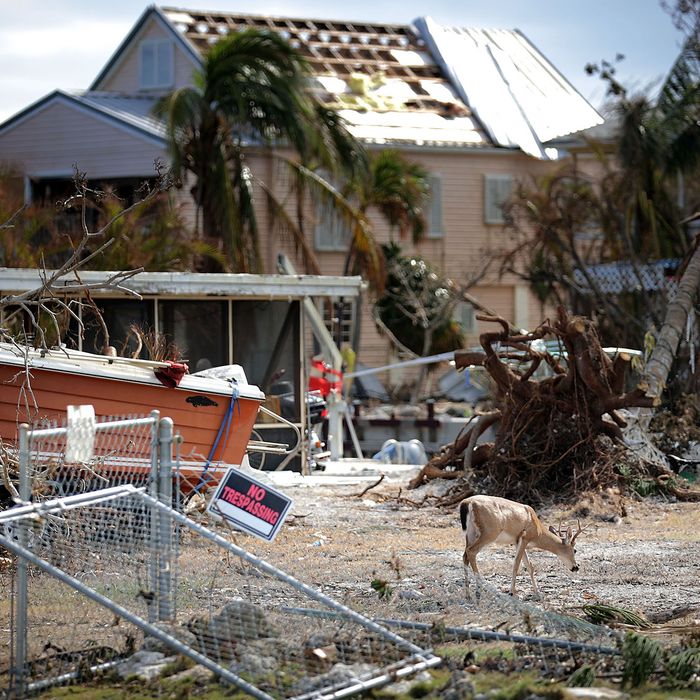 The aftermath of Hurricane Irma in southern Florida.
Photo: Chip Somodevilla/Getty Images
It's easy to be skeptical of FEMA — the Federal Emergency Management Agency infamous for high-profile bungling. But just this week, FEMA gave Florida homeowners who are struggling to repair their houses after Hurricane Irma another reason to be wary of the agency's attention to detail.
Instead of tweeting out a phone number for Operation Blue Roof, an outfit which repairs damaged roofs in southern Florida, on Wednesday, FEMA's Region 4 tweeted out a phone number for the phone-sex hotline 1-800-ROOF-BLU.
"Welcome to America's hottest talk line. Guys, hot ladies are waiting to talk to you. Press '1' to connect, free, now," the recording said, according to the Miami Herald.
FEMA eventually realized their mistake, deleted the number, and updated the tweet, but not before surprised homeowners dialed in. FEMA now advises anyone dealing with a damaged roof to call 1-888-ROOF-BLU. Again, that's 1-888-ROOF-BLU.