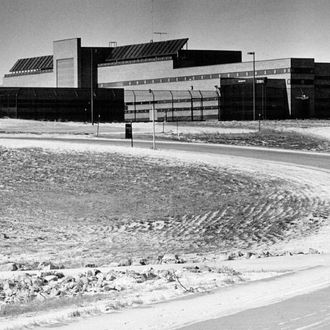 The Wyoming Women's Center in Lusk, Wyoming.
Photo: Susan Biddle/Denver Post via Getty Images
Back in July, Taylor Blanchard sued the Wyoming Department of Corrections. The 23-year-old first-time offender had landed herself in prison for a drug charge, was granted probation, then violated her terms. Although the judge at her next hearing recommended she be sent to a boot camp, the one in her state — the Youthful Offenders Program at the Wyoming Honor Conservation Camp — didn't allow women. As a result, she landed back in prison.
A new BuzzFeed story takes a deep dive into the Blanchard case, highlighting what this policy has meant for women prisoners in the state:
And then there's Wyoming, where a man can do six months in boot camp for the same crime that sentences a woman to six or more years in prison.
Earlier this month, Blanchard was transferred to a similar boot camp program out of state, down in Florida. But Stephen Pevar of the American Civil Liberties Union, who took on Blanchard's case, is attempting to change the system for other women in Wyoming via a class-action suit:
The lawsuit's proposed class includes current inmates at Lusk's women's prison who were first-time offenders under 25 at the time of their sentencing — women who were eligible to be recommended to the Youthful Offenders Program but weren't given the chance because of the boot camp's men-only tradition. The proposed class also includes young Wyoming women who will face the same situation in the future.
Read the full story at BuzzFeed here.