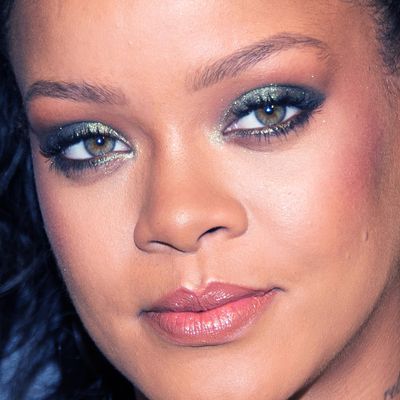 Rihanna.
Photo: Stephane Cardinale - Corbis/Corbis via Getty Images
Just as we were beginning to come down from the collective, delirious high that was the launch of Rihanna's Fenty Beauty 13 days ago, the singer, beauty mogul, and wineglass-accessorizer announced a new holiday line called the Galaxy Collection.
Rihanna unveiled the new collection at a launch party in Paris on Thursday, where she presented a short teaser video and applied makeup on guests herself.
Unlike the warm nudes, golds, and pinks from her first line, the Galaxy Collection features a bright array of metallic and shimmery blues, golds, pinks, silvers, purples, and greens.
The Galaxy Collection will be available to purchase at Sephora and the Fenty Beauty website on October 13, which means you have under a month to prepare yourself for all of the "out of this world" headlines that will inevitably follow.