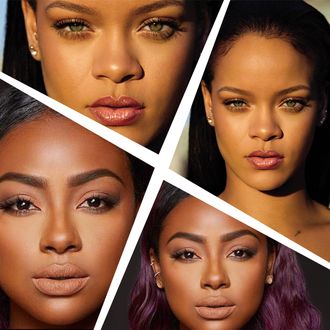 It's open season for makeup wars, as fans of Fenty Beauty, Rihanna's new makeup line, are already doing battle with fans of Kylie Jenner's Kylie Cosmetics on Twitter.
Fenty Beauty launched with an ethos of inclusivity, with a whopping 40 starter foundation shades and a lip gloss that promised to look good on all skin tones. On the eve of Fenty Beauty's launch, Kylie Cosmetics used Twitter to promote Brown Sugar, a lip kit that some allege is their only nude aimed at brown skin tones. (The tweet has since been deleted.) And the Rihanna/Fenty Navy was not having it.
The Kylie shade debuted August 24th last year as "the perfect nude for deeper skin tones." Though it has only appeared on the Kylie Cosmetics Instagram page a handful of times since its initial launch, the brand brought it back towards the end of last week as an addition to its collection of singles. It was promoted four times over the weekend (five if you count a post that was later deleted).
Kylie Cosmetics has been releasing more shades as singles, but the timing of this one seems suspect — at least according to Fenty Beauty stans. The replies to the brand's promotional Tweet include an impressive number of sarcastic Rihanna GIFS and quips about why Kylie doesn't have more nudes for darker skin tones.
Kylie's brands have come under fire before. She's been accused of copying an indie designer and gotten flak for trying to sell vintage T-shirts emblazoned with copyrighted images of Tupac and Biggie.
It remains to be seen what Rih thinks about all this, but in the meantime, Fenty fans are here for the drama.