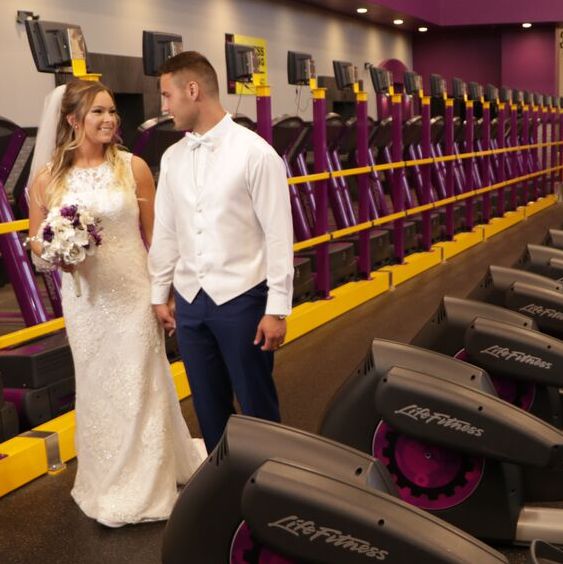 Stephanie and Joe Hughes.
Photo: Tom Uhlman/Planet Fitness
Ideally, a wedding takes place somewhere significant for the new couple — their favorite park, a parent's house, or somewhere within crashing-distance of Kristen Stewart. For Joe and Stephanie Hughes, their special place was the 24-hour Planet Fitness in Cincinnati, Ohio, where they got married last Sunday.
Their romance began, like so many great love stories, when Joe approached Stephanie while she was balancing on a bosu ball in the PF 360 room. The pair started meeting for gym dates, and Joe told Stephanie he loved her for the first time in the Western Hills Planet Fitness parking lot. After Joe proposed, the gym agreed to host the wedding, and a Planet Fitness staff member even officiated the ceremony.
On the day of their wedding, the happy couple wore matching "Bride" and "Groom" sneakers and posed on cardio equipment with their 18-person wedding party, and Stephanie walked down a petal-strewn aisle between the ellipticals and some weight machines. At the end, the couple received the most precious wedding gift of all, an oversize check from Planet Fitness.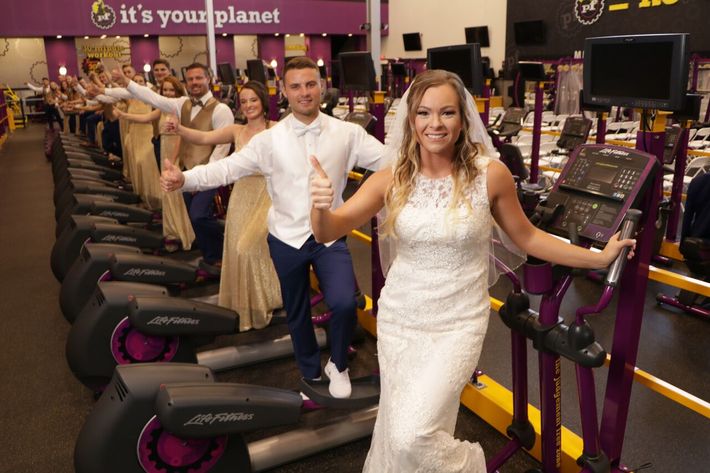 Warmest wishes for Stephanie and Joe, and their continued commitment to physical fitness, and each other.
Watch the Planet Fitness–produced story of Stephanie and Joe's love here.