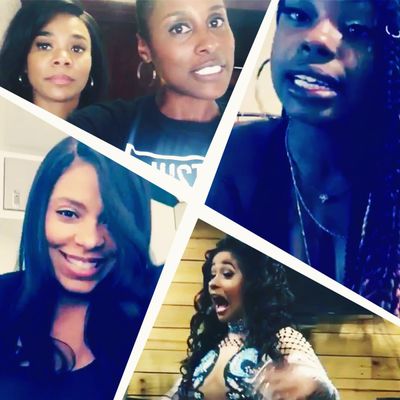 A new social-media challenge is popping up all over Twitter timelines this week. It's called the For the Dick Challenge and it is hilarious. We strongly hope this proves as viral as the ice-bucket challenge. We can do it people, let's make it happen.
The whole thing started in April (the start of horny season, coincidentally), when New Orleans bounce artist GameOva Reedy dropped a legendary freestyle about everything she would do for some dick. It was brilliant. It was fearless. And now, it's inspiring celebrities to make tribute videos, dropping verses about the great lengths they'd go to, just to secure some bomb dick. Breaking news: your #WCW is a thirsty-ass.
Watch the best from Cardi B, Sanaa Lathan, Issa Rae, Regina Hall, and others:
Issa Rae and Regina Hall would drop an iPhone for that dick:
Cardi B would snitch on a man for that dick:
Sanaa Lathan would go bald for that dick:
Dreezy would play stepmommy for that dick:
Tiffany Hadish would fly for that dick:
Erykah Badu would eat meat for that dick:
Let them inspire you to proudly embrace all the batshit things you'd do for that D. No judgment.