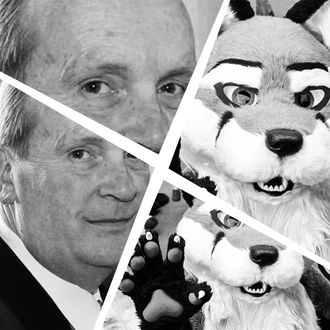 The American political system has a rich, varied history of scandals — and today, we go both hyper-local and hyper-specific for the story of a Connecticut councilman who was forced to resign after people learned he was a furry.
In his public life, Scott Chamberlain was a first-term Democrat on the New Milford town council. In his private life, he is a furry whose "fursona" is a fox named "Gray Muzzle." Although Chamberlain had not hidden his participation in furry fandom, there was a major outcry against him when town resident Rick Agee posted screengrabs of his private sofurry.com profile to Facebook.
In particular, residents took issue with a part of his profile that stated he "tolerates" rape. (Site users are made to sort preferences into the following categories: "loves," "likes," "tolerates," "hates.")
Mayor David Gronbach called for Chamberlain's resignation, telling the New York Post, "As public servants, we are held to a higher standard and Mr. Chamberlain's apparent posts do not meet that standard."
Chamberlain told the Danbury News-Times that his participation in furry culture was not sexual, insisting, "It's nothing to do with sex; it's an interest in cartoon animals."
"I'm just saddened by this whole thing," he continued. "I've always tried to be positive in my public life and work hard and donate my time for the people of New Milford." By Saturday, he announced in a Facebook post that he would be resigning.
In related news, a whole lot of people in New Milford, Connecticut, probably just learned what furries are.