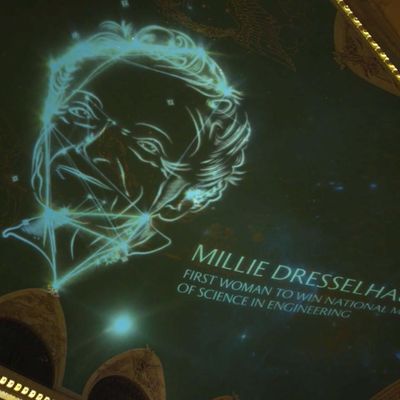 An image from GE's "Unseen Stars" exhibit in Manhattan's Grand Central Station.
Starting this week, 12 prominent female scientists will be honored for their contributions to STEM fields in an animated light show at Grand Central, displayed on the main terminal's ceiling.
Titled "Unseen Stars," the light installation will project the faces of groundbreaking female scientists on the ceiling's bright blue zodiac mural, like constellations. The project is part of GE's ongoing campaign to hire 20,000 more women at the company and close the gender gap in STEM by 2020. Organizers hope the installation will bring attention to the often overlooked work of important female scientists.
Featured women include Millie Dresselhaus, Ph.D, the first woman to receive the National Medal of Science in Engineering; Laurie Leshin, Ph.D, a geochemist who investigates the possibilities of life on Mars; Hadiyah-Nicole Green, Ph.D, a physicist who created a cancer treatment using lasers and nanotechnology; Sabrina Gonzalez Pasterski, a physicist whose pioneering research focuses on quantum gravity; and Jess Melbourne-Thomas, Ph.D, a marine ecologist who led an all-female trip to Antarctica to address climate change.
The installation, is currently live and will today until midnight and tomorrow from 5 a.m. to midnight. Watch the video below for a preview.