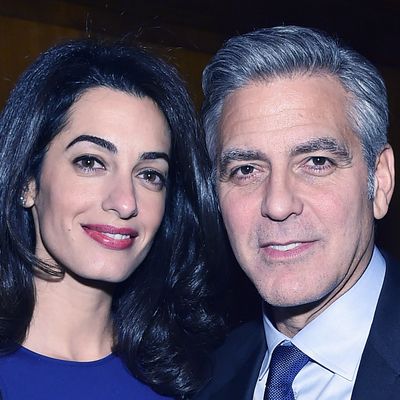 Amal and George Clooney
Photo: Mike Coppola/Getty Images for 100 LIVES
In addition to representing thousands of Yazidi genocide victims in an International Criminal Court investigation against ISIS, Amal Clooney and her husband, actor, director, and expert barf-cleaner George Clooney, have taken in a Yazidi refugee whom they are supporting while he pursues a college degree. In an interview with The Hollywood Reporter, George said:
He was on this bus to Mosul, and ISIS shot the two bus drivers and said, 'Anybody who wants to go to college, we will shoot them. He survived and came to America. He got through all the checks, and once he got through those, it was like, 'Listen, we got your back. You want to get an education? You want to move your life forward? This is something that we can do.'
The man is living at the Clooneys' home in Augusta, Kentucky, and is now a student at the University of Chicago.
George Clooney also stated that a portion of the estimated $200 million he made from selling Casamigos Tequila, the tequila company he owned with Rande Gerber and Mike Meldman, will go to aiding refugee resettlement and building schools for refugees.
"Take $20 million and put it directly into our foundation [the Clooney Foundation for Justice]," Clooney said. "It will go toward educating refugees, it will go toward housing, it will go to all the things that we want to work on."