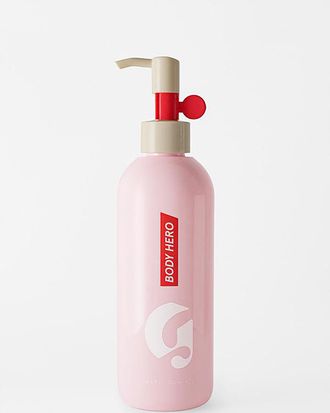 Glossier Oil Body Wash
Photo: Courtesy of Glossier
What Delias was to girls in the late '90s, Glossier is to millennials right now. Whenever the brand releases a new product into the wild, my phone floods with texts: "Hey Ash … is it any good and do you have any extra?" The fact is, every woman I know wants whatever Glossier is selling, which is cool factor with a side of cream.
With its latest release, the two-part "Body Hero" collection, Glossier marks its entry into body care. There's an oil wash and a cream, both packaged in that signature pink. The oil wash in particular is a winner. Anyone will tell you that proper moisturization starts in the shower — that's why Dove harps on the inclusion of lotion in its soaps. But while I like Dove, Glossier's new oil body wash is a cut above.
I've used the wash every day since the bottle arrived on my desk at the beginning of September. That might not sound significant, but when a new skin-care salve lands in your cubicle daily, it's hard to commit to any one product. I like the body wash because it feels luxurious (due to its scent and skin-softening prowess) without feeling pretentious. Oil-based, non-drying, and neroli-scented, it's the best body wash on the market right now.
There are several oils in the wash: soybean, grape seed, coconut, sunflower seed, safflower seed, meadowfoam seed, sesame, and olive oil. And yet it doesn't feel heavy, and it rinses clear with no residue. Pumped into the hand, the oil transforms, bubbling up and releasing neroli's baby-powder scent. Glossier helpfully tested the wash to ensure it won't set your labia on fire, and because it's soap-free, there's no need to worry it'll wreak unnecessary havoc on your vagina's bacterial ecosystem.
Of course, Glossier's other area of expertise is marketing. Body Hero is being promoted with a campaign full of nude models of all sizes, including Paloma Elsesser and a very pregnant Swin Cash Canal. Yes, the oil wash is amazing — but so is the brand's knack for getting everyone talking.
If you buy something through our links, New York may earn an affiliate commission.