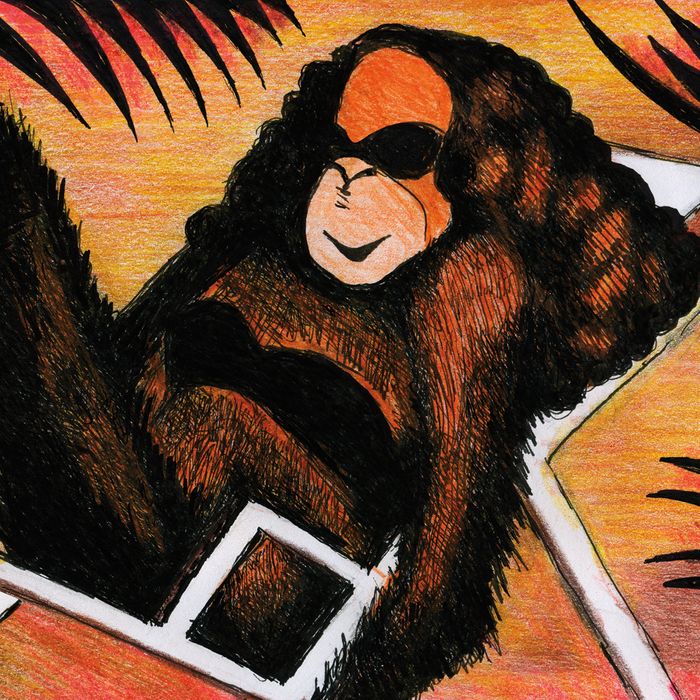 Photo: Michael Roberts/Michael Roberts
The story of GingerNutz, the most stylish orangutan in the jungle, begins with a copy of Vogue magazine washing ashore in a glass bottle.
"Mummy, daddy," says GingerNutz after pouring over her new discovery. "I'd like to be plugged in to the information superhighway, become globally interconnected with the highest levels of chic, and mingle with the movers and shakers of the fashion elite."
So it is decided: GingerNutz, with her frizzy red hair and unique style, needs to be a model. She fashions makeup and outfits using her natural surroundings, which soon gets her noticed by designers Disco and Grubbana, who ask her to be in their first, all-orangutan fashion show. It's a dream come true, and afterwards they all celebrate together at the MET, also known as "Monkeys' Exclusive Teaparty."
Late in her career, GingerNutz goes on to become a fashion magazine editor after being told, "Even a monkey could do it."
If this story sounds familiar, that's because it is. Inspired by Vogue creative director at large Grace Coddington, the illustrator Michael Roberts wrote and illustrated GingerNutz as a playful homage to both an endangered species and his animal-loving fashion friend. Like GingerNutz herself, the book made its debut during New York Fashion Week.
"I'm honored!" Coddington told the Cut of her orangutan doppelgänger. "And in case you're thinking I'm offended, I'm not!"
Grace Coddington and Michael Roberts will be doing a book signing at Bookmarc Saturday September 9 from 4 to 6pm.