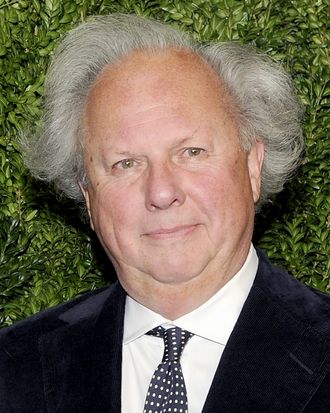 Graydon Carter.
Photo: Getty Images
Legendary Vanity Fair editor Graydon Carter is leaving the magazine in December, after 25 years on the job.
Carter came to Vanity Fair from the New York Observer in July 1992 and, over time, established himself as a celebrity editor. During his tenure, he oversaw stories like the identity reveal of Watergate informant "Deep Throat" and founded the magazine's famed annual Oscar party.
In the mid-'80s, he created the satirical monthly Spy magazine, in which he referred to Donald Trump as a "short-fingered vulgarian," thereby kicking off a decades-long feud with the current president.
"I've loved every moment of my time here and I've pretty much accomplished everything I've ever wanted to do," Carter said in a Vanity Fair press release. "I'm now eager to try out this 'third act' thing that my contemporaries have been telling me about, and I figure I'd better get a jump on it."
Per the New York Times, "his post-Vanity Fair plans involve a six-month 'garden leave' (his phrase; Mr. Carter is fond of Britishisms) and a rented home in Provence."